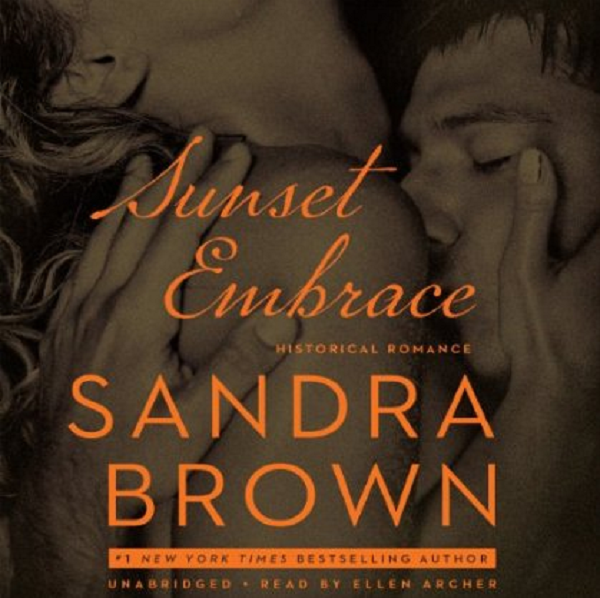 Sandra Brown's early novels were very romantic, and publishers are bringing back the early ones to audio for the first time. (Later, she switched to more action and adventure, with murders in the "romantic suspense" genre.) One of these is the newly released SUNSET EMBRACE, as read by Ellen Archer. This is historical fiction, an intimate story of survival set on a wagon train. I asked the narrator how she approaches characters in romantic suspense differently from straight mystery. Ellen Archer: "When recording romantic suspense, I tend to focus on creating chemistry between the characters who are in relationship. I think it's important for the listener to invest in the romance as much as the suspense and not just hear it as an obligatory sex scene, but as an viable part of the story." Archer should know. She also reads SECOND HONEYMOON by James Patterson.
They say if you live long enough, you'll see trends and styles reverse and/or return. Well, bell-bottoms haven't made a reappearance, but the flow of people in and out of cities is certainly going the opposite direction. Leigh Gallagher has written a book about "where the American Dream is moving" titled THE END OF THE SUBURBS, read on audio by Jessica Geffen. In it, she says that the flight from cities into suburban developments due to crime and congestion has gone into a U turn. Today, crime in the suburbs is on the rise, and the nuclear family has changed too, going on the decline, while single person households are on the rise. So there's no need for good schools and yards…and cars. Transportation costs and rising oil prices make living far from work more expensive. So the trend now is urban, with walkable neighborhoods and cameras everywhere to document crime. This means high rise condos and apartment buildings, lofts with garden roofs, common spaces for sharing, and easy access to shopping and coffee shops. This trend is not just in America, but also overseas in places like China and India. Consolidation of industry and mass housing is made livable by smart architecture and pedestrian friendly engineering. With cleaner electric vehicles and fewer vehicles in general, air pollution can be held in control. The downside? Population density makes easier targets for terror. Why can't we all get along? That may be the biggest and most vital question of all.
ROBOGENESIS by Daniel H. Wilson is the sequel to Robopocalypse, and features Archos R-14, an A.I. that has survived the war with man that it lost, only to gather its forces in a surprising way again from a million sources…fed directly into a newly assembled sentient sourcecode. Will Takeo Nomura find a way to outwit a superhuman intelligence again—one which uses everything from nano-robots to butterfly drones as weapons against humanity (as one of its side projects)? The novel is read by MacLeod Andrews, Emily Rankin, and Mike Chamberlain, and is always engaging while remaining a very human story, with a command not just of technology but also of language. The best thing about these books is that they don't postulate time travel to bring a Terminator from the future, or aliens from other planets as in the Battleship movie or the Transformers movies. Wilson, a computer scientist, argues that robots get a bad rap, and shouldn't be limited by human prejudice and pre-conceptions. Technologies always evolve beyond where we think they will, and the same will be true for robots and their increasing presence in our lives. What's next? Will there be a third novel, making this a trilogy? Time will tell, but if you want to hear a postulation one step beyond this in concept (and the movie) listen to Transcendence 2: The Nexus Ultimatum, my new novella performed by Christopher Vournazos for Audible.
In MOLLY'S GAME, a memoir by Molly Bloom, the pseudonym author (not the character in Ulysses) gives an inside look at the hidden world of high stakes poker among the ultra rich, some of whom she describes as amoral libertines with "decorative" girlfriends. Some of their parties ran up $100,000 bar tabs, and the richer they were the more impatient and rude. Molly was hired initially in a service position at the upscale restaurant "Boulevard" operated by "Riordan Green" (again, names were changed in this true story to protect certain celebs.) She was often denigrated and insulted, and other times propositioned, but somehow managed to keep her focus on winning her own game within the game. Sex went on in back rooms as often as body shots do in less expensive clubs…penthouses where sex tapes are the cost of doing business, and she even mentions seeing Paris Hilton slug an ex's new girlfriend, and the subsequent appearance of the Hilton tape's producer. But mostly this is the first person story of how a girl from Loveland Colorado got involved in staging games for wealthy men, luring them by working her growing contact list, while listening to gossip she wasn't supposed to repeat. The subtitle is a mouthful:  "From Hollywood's Elite, to Wall Street's Billionaire Boys Club, My High Stakes Adventure in the World of Underground Poker." She insists that she walked the tightrope of legality, taking only "tips" for her services by those wanting to be included in future games. The Heidi Fleiss of gambling, Bloom has things to say about the shallow vanity of playboys and their bimbos, and about stars like Ben Affleck, who was smart with his bets (unlike, say, Michael Jordan.) Tobey McGuire is described as "a poor loser," willing to disparage those below his station, having fun at their expense. Then, after an armed robbery in her own home, she was called to appear in court on the case involving a bookmaking operation run out of a Trump tower apartment where she'd "spent many nights." The Feds had been watching her due to association with the crimes of Russian mobsters she didn't even know. She was convicted, and, now broke, awaits sentencing. And yet—most surprisingly of all—she doesn't regret taking the chances she did. Narrated by the always engaging Cassandra Campbell, the audiobook version captures the tone you'd imagine the author taking, in this sad commentary and confessional on gambling culture and the insanity of our obsession with money, power, and fame.
Driven people are motivated to win, often at any cost. What does "winning" mean? Well, that depends on who you ask. According to Roland Lazenby in MICHAEL JORDAN: THE LIFE, the basketball icon was a complex man whose influences include the murder of his father, his estrangement from his family, and "a bipolar personality." The book is deeply researched, going back into the childhood and family history of Jordan to discover facts and secrets never before revealed. The author likes Jordan, and is indebted to him for preventing his fall on one occasion off a loading dock, but is clearly in investigative journalist mode about setting the record straight while building a complete picture of motivations coming from background. Narrator Bob Souer sounds like a sports announcer, if Frontline had one. If Frontline does a documentary about Jordan, it will certainly include this book, which says almost as much about the NBA as it does about its best-ever player. You will certainly learn more here about the ups and downs of being a hyper-competitive player and gambler than anywhere else. Would you want to be him? Millions say yes, regardless of the price. But few who say this are willing to pay that price, nor might they understand and enjoy what they "own" when they achieve goals which are only stepping stones to higher goals. If pride goes before a fall, and ego inflation the ultimate high, what does it all mean for Jordan or for NBA's latest player, Steve Ballmer, whose sub-par biography, only in print, is titled BAD BOY BALLMER? Everyone has to answer that for themselves.
Finally, Paris Hilton doesn't show up in THE HILTONS: The True Story of an American Dynasty until the 16th and final CD. The great granddaughter of Conrad Hilton, Paris has a very insignificant role in the rich history of the hotel magnate, whose early career in Texas started when he purchased his first hotel on borrowed money. A devout Catholic, Conrad counted Zsa Zsa Gabor as one of his failed marriages, while his son Nicky married Elizabeth Taylor with tragic results. The bitter fights over Conrad's will form part of the narrative, as Barron contests the handling of increased value of shares (Conrad was stingy when it came to his heirs, expecting them to make it largely on their own, and left most of his money to charity.) How Conrad amassed such wealth is examined, particularly his philosophy of use of space, quality and taste, and honesty in business dealings. Barron's initial denial of a hotel license in Atlantic City (due to an associate's ties) forms another section, culminating in the purchase by Donald Trump. Trump's involvement may have led to his sponsoring of Paris later in modeling. Read by the engaging and talented actor Robert Petkoff, the audiobook tells a multi-generation spanning story with fascinating insights into the times from the eyes of the privileged, showing that one must use what they have to succeed or they will fail on their own…although it helps to have a name to dazzle those who believe it's mostly "luck." Author J. Randy Taraborrelli is author of bios of Marilyn Monroe, the Kennedy women, Frank Sinatra, Diana Ross, and Michael Jackson.
Prior monthly audiobook reviews by Jonathan Lowe can be found at www.postalmag.com/audiobooks.htm