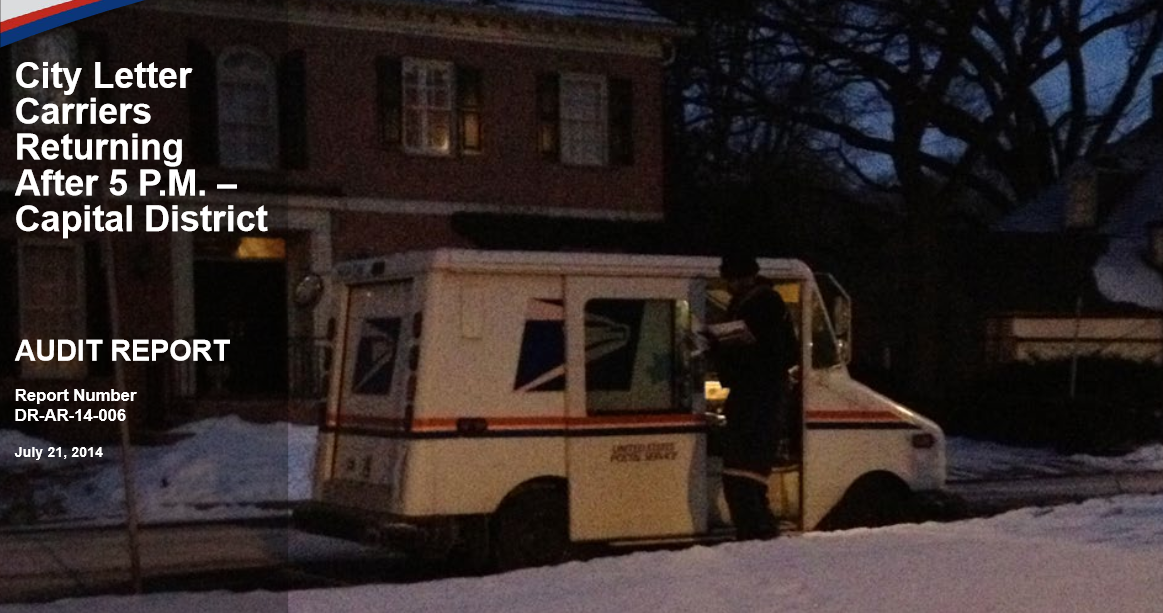 The number of city carriers returning after 5 p.m. is a growing problem in the Capital District, increasing by 14 percent from FY 2011, Quarter 1 to FY 2013, Quarter 4 according to an audit report just released by the U.S Postal Service Office of Inspector General (USPS OIG). The USPS OIG reports:
City carriers returned after 5 p.m. because mail coming from processing facilities did not always meet times established in the integrated operating plan and management did not always properly supervise city delivery operations. Adhering to integrated operating plans will improve mail arrival time at delivery units. Further, better supervision of city letter carriers will reduce the number of carriers returning after 5 p.m., increase carrier safety, and reduce late mail delivery.
The U.S. Postal Service's goal is for 95 percent of city letter carriers to return from street operations before 5 p.m. From fiscal year (FY) 2011 to FY 2013, the percentage of city letter carriers returning after 5 p.m. nationwide increased from 25 to 38 percent.
Read the report at: http://uspsoig.gov/sites/default/files/document-library-files/2014/dr-ar-14-006.pdf