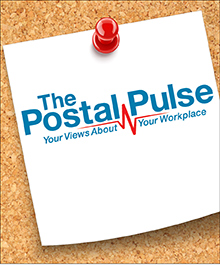 Just days after Megan Brennan was sworn in as the new Postmaster General, the U.S. Postal Service has announced a new employee survey that will replace the somewhat unpopular Voice of the Employee survey. According to a USPS news release, Brennan is seeking to better invest in postal employees. "We need to provide you with greater flexibility to resolve problems and improve the way we operate," Brennan says.
The Postal Pulse program will include one survey of the entire USPS workforce in 2015 (in March). Beginning in 2016, all employees will be surveyed twice a year, according to a USPS News Link article.
Many postal employees viewed the old Voice of the Employee survey as both ineffective and tied to supervisor bonuses. In fact, some employees in continuing hostile work environments believed the surveys actually kept abusive supervisors in their positions. Workers believed upper management would keep supervisors in place viewed as negative by their employees under the assumption they must be doing something right if the employees gave them unfavorable marks.
The U.S. Postal Service has filed to trademark the Postal Pulse name. The filing took place on February 6th, 2015, four days after Brennan took office. The name was filed under goods and services for "conducting employee surveys for others for purposes of improving employee performance and morale."