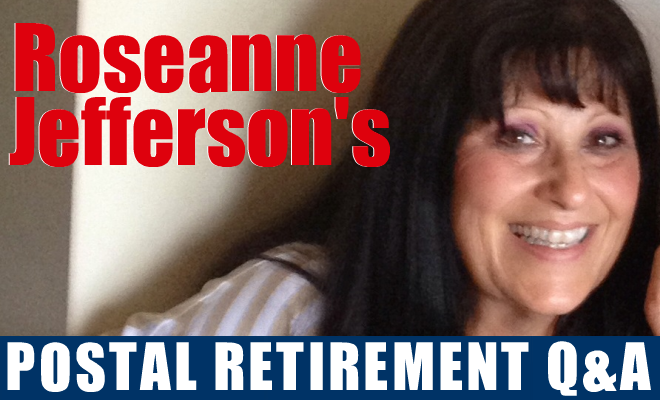 Roseanne is a retired USPS employee with an extensive background in USPS retirement, disability retirement, OWCP, EEO, Labor Relations and HR. She conducts individual and group counseling and is able to comprehensively discuss the pros and cons of employees who are on OWCP, disability retirement and regular retirement. Roseanne will be happy to answer your postal retirement questions. Contact Roseanne at roseanne.jefferson@icloud.com. Click here for prior Q&As and Click here for Q&As prior to July 2014.
Good Day Postal Employees!!
NO sermon, NO talk….straight on to the letters of the month…..
Q 1. Dear Roseanne, I have a friend who left the postal service after 20+ years of employment. At the time of the resignation, they took money out the TSP fund, after their separation. This was done because they could not find anyone to talk to about their resignation, and so not even thinking that they may have rights to a pension from their postal employment.
It has now been 10 years since the resignation, and she will reach her MRA in 4 yrs. I'm writing to you because I think there must be some kind of pension for her when she turns 55 and beyond even if she left way before her MRA. I'd greatly appreciate if you would tell me what options are available for her at this point and how best to go about it. I have the utmost respect for you for what you do for everyone who need valuable advice and accurate information. Thank you so much. Best regards, PS: Please, let me know if you need any additional information.
A 1. Hi, it sounds to me like this was a FERS employee, (because you're referencing MRA, and MRA is for FERS employees, not CSRS). If after a resignation, and that former employee does not withdraw their retirement contributions, then depending on the years of service (& age), there is eligibility for a pension at age 62. What you read, if using 55, is about the CSRS fund and not about FERS. They are 2 very different retirements. 55 " translates to CSRS, & MRA translates to FERS. ROSEANNE
R 1. Omg! Thank you so much for your quick reply. Yes, she was FERS and I was CSRS so I'm sure I got those two mixed up. That's great if she can apply for her pension when she reaches 62. Would there be any difference in benefits in applying for her retirement between at the age of 62 and 65? If so which will make most sense in your opinion in general. Also where would she get an application when the time comes as she can't get on liteblue or call HR. Is there a phone number that she can call with questions? Thank you SO much. I know she will be sooo happy to hear this. Thank you.
RR 1. I would suggest she try (when it's time ) to contact OPM (Office of Personnel Management) PO Box 45, Boyers PA 16017. Additionally the phone number is 888-767-6738. Roseanne
Q 2. Hi Roseanne. I am a CSRS letter carrier with a retirement date of 12/12/2017. My spouse is a retired CSRS postmaster. I have carried FEHB on our family since we were married nearly 28 years ago. Our son is no longer covered on the family plan, but my husband and I both are. My husband was recently told that when I retire, it would be cheaper for both of us to choose "self only" insurance. I was under the impression that I would need to continue to carry insurance for us both since he has not carried FEHB within 5 years of his retirement. Please clear this up for me. Thanks so much for what you do! CH
A. 2. HI CH, YES, both of you can be covered as single coverage each. Remember, each of you have eligibility on your OWN employment. It does not matter WHO pays the FEHB, both of you have continuous coverage. You each could change each year, you pay family one year and spouse pay family the next year. OH, I don't recommend it, it's too confusing…..but it does make the point. Another thing that is valuable to know…this 5 years of continuous coverage…..is really 5 years continuous coverage immediately prior to your retirement…Just an FYI. You will be able to only to do this during either open season, or a "Qualifying Life Status Event", and OPM does not consider retirement a Qualifying Life Status Event. AND I suggest you do this NO LATER than the OPEN SEASON of 2016, for the 2017 year…that way when you do retire both of you will have your own single coverage, and that makes things go so much easier. Roseanne
Q 3. Hi Roseanne, I typically use 30-40 LWOP days per year to perform Union duties. The union pays me the amount I would have made working for USPS. Assuming my salary is $60K, but I only end up earning $50K from USPS with the other $10K from the union, will my high 3 be calculated using the $60K or $50K? I'm guessing the $50K.Any other things I need to consider regarding all the LWOP use?? Thanks, KM
A 3. Hi KM, Typically LWOP does not affect too much when it is LESS than 6 months in each calendar year. And you are probably right. The annuity statement may actually show your High 3 as the 60 figure, but when it goes to OPM, they will recalculate, taking into account "the funding" into the FERS retirement system. Other than being prepared for that, and it may NOT reduce…that is about the only thing that I think that would be of a concern. Roseanne
R 3. Thanks for the reply. Greatly appreciated.
Q 4. Good morning , I will be 60 on 9-9-15. I will be having surgery and be on sick leave for some time, then using annual leave til the end of September 2015. I plan on retiring on Sept 30th, I will have 24 yrs 9 mos. From reading up on retirement and watching videos, I assume I am good to go? I thought I read somewhere that you had to be in a pay status on the day you retired, is that true? I should have enough time, between sick and A/L to cover me until the end of Sept. I want to make sure what my status needs to be on the date of retirement.
Thank you for your time..
A 4. Hi, Sick leave, Admin leave and Annual leave ARE all pay statuses. LWOP is NOT being in a "pay status" You can, as they say, sick leave or annual leave OUT if you wanted to and of course it was approved. Using all until the end is not going to negatively effect you. You won't typically have the big lump sum check when you retire if you are using until your retirement effective date. Either way you are good to go…other than LWOP, sick and annual, they are pay status. And that you have to be in a pay status to retire…well….if you look at employees who retire under "disability retirement", typically they have spent much time on LWOP…so it's all really how you frame a question. Roseanne
Q 5. I have a chance to apply for a newly created supervisor position in our small home town. Would that help or hurt my retirement opportunities? I am the excessed mail handler?
A 5. JUMP ON THAT!!!!! Are you kidding….this will help to increase your high 3 average salary…(although there are talks of high 5 average),HOWEVER.. understand this….you are going to work your ass off….really, and that is trade off, with the salary and the increases. If you think you are going to work 8 hours a day, don't bother in taking the job, you will be miserable. Think about it!! There is no right or wrong answer here……it's you. Roseanne
Q 6. Hi Roseanne: I just came aware of your site and I have 2 questions for you:
1) The amount on your check under USPS retirement on the bottom right , is that a lump sum payment?
2) I will retire in March 2016 with a few months of sick leave and I need minor surgery which will put me out 6 to 8 weeks. Would it be beneficial to me to take the 8 weeks of sick leave or have the surgery after I retire. Thank you in advance TR. PS I wish I found postalmag.com a long time ago!!
A 6. Hi TR, that amount is the amount of money at the bottom of your pay stub is what " YOU" have contributed to the FERS retirement fund (bi-weekly)totaled for your entire career. If you notice it only changes once a year and that is PP2, when you begin anew with leave, and carries that year-tp-date balance to that bottom figure. AND NO…..it's not paid in a lump sum to you. First, if you have ever looked at an annuity estimate, you would see very quickly that "that money" at the bottom of your check "that money"….would only last around 8-10 months….so to think that you would get that in a lump, then there would be NO BASE OF MONEY in which to establish for an annuity.
As far as ANY leave is concerned, it is always more "valuable" used versus being paid, or rolling over to credible service years, so that addresses question number 2. Good luck on your surgery and speedy recovery…..to the bliss of retirement. Roseanne
Q 7. Roseanne, hope all is well with you and your daughter. I've emailed you in the the past you were very helpful. I joined the ranks of the retired July 1, 2014 and couldn't be happier. I was a carrier for 26 years. My question is concerning critically ill employees. An ex coworker was diagnosed with terminal cancer. He is eligible to retire without penalties under FERS. I thought I read somewhere that if you have a terminal disease you can withdraw our limp sim your retirement contributions. His wife passed away some years ago and has an adult child. I don't know but I think if your life expectancy is less than 2 years you are eligible for this. I also believe if your life expectancy is no more than 9 months, then you can elect a living benefit and get your full value of your life insurance in the FEGLI program. I searched the internet and couldn't find anything. I know you get a million emails, but if you could expedite this his daughter and I would greatly appreciate it. Thank you SO much. AG.
A 7. Hi AG, What a nice thing to do for someone. You are correct, if his physician will "narrate" on paper that this employee has less than 12 months, then that employee can apply for an "Alternative Annuity". The amount that is at the bottom of the pay stub (+the ytd on the paycheck/stub) is what an employee has contributed to the FERS retirement fund. Under those conditions you outlined, the employee would be able to withdraw all of his contributions and STILL BE ELIGIBLE for a monthly annuity. This information is from OPM so, based on what I put in red, yes he should apply with HRSSC at 1-877-477-3273 to begin this process right away. And things health wise are still "stable", and thank you for asking. I hope this will put your friend on the path to retire. Roseanne
Chapter 42
Section 42A4.1-1 Postponing Retirement Benefits (Cont.)
Health and Life Insurance
Coverage (Cont.)
Alternative Annuity Election
Reemployment in a Federal Agency Before Postponed Annuity Begins
Survivor Benefits
NOTE: FEHB and FEGLI coverage is reinstated prospectively even if the individual decides to receive annuity retroactive to the first of the month following separation.
An individual who chooses to postpone his or her MRA + 10 annuity may elect the alternative annuity when OPM adjudicates the postponed annuity benefit. Only an employee or separated employee who has a life- threatening affliction or other critical medical condition currently listed in CFR 842.707 may elect the alternative annuity.
An individual eligible for an MRA + 10 annuity who is reemployed in a Federal agency before he or she begins receiving regular annuity payments is treated as an employee and not a reemployed annuitant.
If an employee separates from service after having met the age and service requirements for an immediate MRA + 10 annuity, but dies before actually filing an application for retirement, he or she is deemed to have filed that application. The former employee is considered to have died as an annuitant, thereby ensuring the rights of survivors to the following benefits:
Annuity benefits to a surviving spouse.
Annuity benefits to children.
Eligibility of survivors for FEHB coverage if the deceased was eligible to continue coverage as an annuitant and had been enrolled for family coverage.
The lump sum payment to the person or persons entitled under the order of precedence. (See Chapter 34, Designation of Beneficiary, for the order of precedence.)
A separated employee who is eligible for an MRA + 10 annuity may not receive a refund of his or her contributions to the retirement fund even if he or she has not applied for an immediate annuity benefit
AND FINALLY
Q 8. Hi Roseanne, May I share your article on my Facebook page monthly? BTW I do appreciate your contributions to us, thank you TG
A 8. HI TG, Well I have really given this some thought. I was even on an airplane and talked to a doctor about it, (he also is a contributing editor to a medical magazine….much like I am a contributor to postalmag). If you will look on Postalmag you will see that under the column is also a Facebook "add-on" if you will…..I don't answer that, nor do I look at it. Retirement is way too personal to have that which what I write about in the column-on what is a "social media" entity.
Consider this ……you read my columns…..you know I know many things……so I don't NEED a Postalmag, or any established column, I could write a Facebook column called Jefferson's Chimes of Knowledge, which is what my company is called, and it is a company of ONE!! JUST me!! But I don't for the reason's I have given you above. I have many many times have had people write me and tell ME about MY BLOG…..really, because I don't have a blog…..so whoever is answering a blog…..it isn't Roseanne Jefferson…..or maybe people refer to Postalmag.com as the blog???
I have NO problem with you directing those interested in knowing all this important information about retirement to Postalmag and really am flattered that you want to do this for your fellow employees and I'm all about getting information out to everyone…so if you would, please direct them to Postalmag.com…..and I will (if its OK with you, post this letter in next month's column). Roseanne
Follow Up: Roseanne…
Thank you for responding… in actuality I do refer my colleagues to Postalmag. I do encourage them to read the archives and such. What I am discovering is the lack of information from local sources concerning FERS retirement. The local did finally provide an informal seminar, however, I believe it was CSRS biased and understandbly so. FERS is actually just coming into relevance. With all of this said I do not mind at all if you post our correspondence in your article. (I am great full that you are gracious enough to enlighten us). Until we meet again TG
WHEW!!!!!!
Till we speak again…………..Roseanne