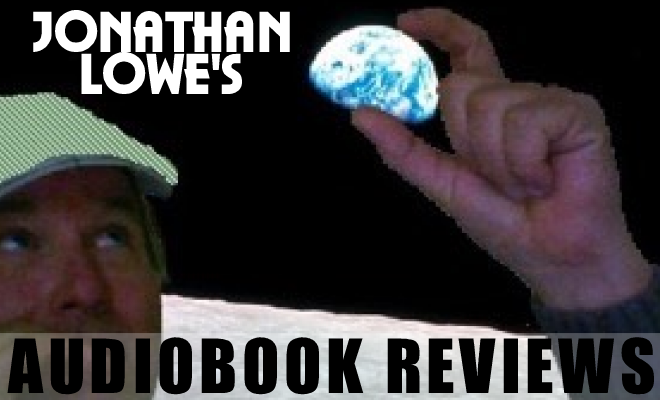 One of my fav author interviews was Garrison Keillor. He's the closest writer we have to Mark Twain, and this next season is retiring from radio after more than 40 years. He is also a great natural storyteller with a gift for timing and tone, plus a voice to die for. So now there is THE 40TH ANNIVERSARY EDITION of A Prairie Home Companion on audio. Here's an except from my interview with him:
Q:​ "What is audience reaction to your shows and signings? Any anecdotes to share?​"​
A: ​"I did a reading in Seattle a which a little girl in the front row fell sound asleep. She slept for more than an hour. It was sweet. I seem to have a God-given ability there. Some people in the room were hooting and slapping their knees, and she simply leaned her head against the fat lady next to her and dozed off. It's good to be useful. A boy wrote me once to say that he loved it when the news from Lake Wobegon came on the radio because it meant that his parents stopped arguing. That was an eye-opener for me. You work hard to polish your act and then you find out that it does people good in ways you couldn't predict. The audience is invisible and that's good. Somewhere my voice is drifting through a swine barn and the sound of it seems to perk up the sows' appetite. Or a lady is listening on headphones as she jogs along a beach, running to my cadence. Or a dog sits in front of the radio, head cocked, and the sibilants excite him in some mysterious way. A dog's humorist, that's me.​"​
BIO from publisher: Garrison Keillor is America's favorite storyteller. The host of A Prairie Home Companion, he has captivated millions of listeners with his weekly News from Lake Wobegon monologues. A Prairie Home Companion is heard on hundreds of public radio stations, as well as America One, the Armed Forces Networks, Sirius Satellite Radio, and via a live audio webcast. Keillor is also the author of several books and a frequent contributor to national publications including Time, the New Yorker, and NatGeo, in addition to writing his own syndicated column. He has been awarded a National Humanities Medal from the National Endowment of the Humanities. When not touring, he resides in St. Paul, Minnesota.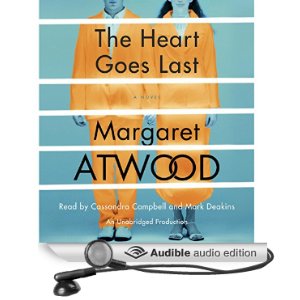 Margaret Atwood is an old woman now, but she has more insight into youth culture than any rocker or rapper. This is because of vision: being able to see the whole picture, not just those quickly "forgoteen" single frames known as "Yahoo Trends." Her new book is THE HEART GOES LAST. One might classify this as more distopian science fiction, such as her masterpiece "The Handmaid's Tale." (She is also author of "The Blind Assassin," which won the Man Booker Prize.) But there is more in this new novel than in previous ones in the sense that it is a fusion of genres infused with satire. The plot concerns a couple having problems with their marriage in a near future society in which the economy has collapsed, and they are forced to live in their car, which they frequently have to move to escape roving bands of looters. This is a world where everyone is guilty, and so there's a prison for everyone called The Positron Project, where, if you enroll, you get to live in a shady Reader's Digest picket-fence company town every other month, and in prison as forced labor to big business every other month. But it beats being on the street! You want to feel "safe," right? (Kinda like most cubical employees feel today, working for the weekend.) Meanwhile there are factories producing sex bots, (shades of "The Stepford Wives,") plus Elvis impersonators, mass societal brain-washing (Brandwashing), compartmentalizing for control (The Filter Bubble), separation of families (like factory farms), and the politics of gender, race, and culture wars. The couple, Stan and Charmaine, see Positron as salvation at first, but, like what American culture has become, it ends up costing them dearly. Narrators Cassandra Campbell and Mark Deakins are both pro voiceover actors who have appeared on TV and on stage, and are versatile in conveying mood and tone in order to establish the characters as real people to listeners. A word about censorship. There are a lot of "f" words in this audiobook, and bizarre sexual references. Unlike gangster rap, however, none of it is gratuitous. Satire serves a purpose in that it holds up a mirror to society to show us what we are actually taking so many selfies of, and Atwood holds up and then cracks the mirror.
THE SECRET HISTORY OF STAR WARS is the ultimate behind the scenes biography of Lucas, an epic audiobook with much information even the most avid fan doesn't know. Star Wars is one of the most important cultural phenomena of the Western world. The tale of Luke Skywalker, Han Solo, and the fall and redemption of Anakin Skywalker has become modern myth, an epic tragedy of the corruption of a young man in love into darkness, the rise of evil, and the power of good triumphing in the end. But it didn't start out that way. In this thorough account of one of cinema's most lasting works, Michael Kaminski presents the true history of how Star Wars was written, from its beginnings as a science fiction fairy tale to its development over three decades into the epic we now know, chronicling the methods, techniques, thought processes, and struggles of its creator. For this unauthorized account, he has pored through over four hundred sources—from interviews to original scripts—to track how the most powerful modern epic in the world was created, expanded, and finalized into the tale an entire generation has grown up with. Michael Kaminski lives and works in Toronto as a camera technician in the film and television industry. A graduate of Vancouver Film School, he is a member of the International Cinematographers Guild. Josh Robert Thompson is a comedian, voice, and television actor known for his celebrity impressions and outrageous original characters. He is best recognized as the voice of Craig Ferguson's robot skeleton sidekick, Geoff Peterson, on CBS's The Late Late Show. As a voice actor, he has been featured on Disney Channel television shows and a number of popular video games that include Final Fantasy XIII and James Cameron's Avatar.
It has long been argued that the singularity of artificial intelligence may either save us or destroy us. MACHINES OF LOVING GRACE by John Markoff explores the former hope. Two separate labs at the Pentagon are researching how either to recreate the human brain or to augment it, and as George Lucas once put it, "Our technology is going up like a rocket ship, but our social progress is a flat line." So while a super intelligence may decide to exterminate us in order to save species we are exterminating, it may also help us overcome our ego delusions with technology to restore what we are destroying via pollution and overpopulation, and make our lives infinitely better in the process. Markoff interviews computer scientists and business people alike to lay out the whole history of our relationship with automation and machines to arrive at some conclusions about where we may be heading. The development of robots, both autonomous and software programs like SIRI, enter into the picture, and narrator George Newbern is host for this in-depth overview of the subject, guiding listeners into the hallways of MIT and Silicon Valley to the personal home robots that are coming faster than anyone expects.
TO LIVE FOREVER by Jack Vance is a fascinating classic science fiction novel on audio for the first time this month, superbly narrated by Kevin Kenerly. The plot has city-set elements reminiscent of the movie A.I., but predates it. This is not about robots, but a society in which the length of your life depends on your merit and contributions to society. There are four levels of longevity, leading to Amaranth, which is achieved by a rare few who reach immortality. You can live out your short life normally, or you can register to work on your "slope," in order to move up in class. There are assassins to keep things in line, and there is an unlawful underground where people prey on or pay to kill animals and people. One of the means Gavin Waylock intends to use to move "up slope" is to help seizure prone patients used for cloning who are kept in cocoons of mesh so they can't hurt themselves. But then he is targeted for exclusion by the Amaranth Society for criminal knowledge of how to evade a mind scan. The brain science of surrogates and others is but one element in this unique novel involving psychology, sociology, culture, the effects of technology, and the limitations of progress due to human nature. In this world there are drugs that can erase selective memory, and balance of a population is achieved without regard to race or sex or war, but uniquely and simply by control of natural death. Narrator Kenerly is a member of the Oregon Shakespeare Festival, and has read other books, including "The Running Man" by Stephen King. His narration is always engaging, and possessed of a gift for timing and appropriate tone in both male and female characters. Jack Vance, who died in 2013, has won multiple Hugo awards and a World Fantasy award. He is a favorite of George RR Martin, author of A Game of Thrones. "To Live Forever" was one of the inspirations for my novel "The Methuselah Gene," and am proud to say it was my suggestion to the publisher late last year that has resulted in this Vance production now. The audiobook is available as download to iPhone or other device, or on CDs, or on a single Mp3-CD.
Finally, for Halloween, THE HORROR OF IT ALL: Pop culture history meets blood-soaked memoir as a horror film aficionado and screenwriter recalls a life spent watching blockbuster slasher films, cult classics, and everything in between. Horror films have simultaneously captivated and terrified audiences for generations, racking up billions of dollars at the box office and infusing our nightmares with unrelenting zombies, chainsaw-wielding madmen, and myriad incarnations of ghosts, ghouls, and the devil himself. Despite evolving modes of storytelling and the fluctuating popularity of other genres, horror endures. The Horror of It All is a memoir from the front lines of the industry that dissects (and occasionally defends) the hugely popular phenomenon of scary movies. Author Adam Rockoff traces the highs and lows of the horror genre through the lens of his own obsessive fandom, born in the aisles of his local video store and nurtured with a steady diet of cable trash. From Siskel and Ebert's crusade against slasher films to horror's Renaissance in the wake of Scream, Rockoff mines the rich history of the genre, braiding critical analysis with his own firsthand experiences. Be afraid. Be very afraid.
(Novelist and reviewer Jonathan Lowe is a longtime judge in the Audie awards. His own books can be sampled at TowerReview.com/Lowe.html. His award winning first novel POSTMARKED FOR DEATH is now available as an ebook edition at Smashwords.com for only $2.99, and carries the endorsement of Clive Cussler, who called it "powerful and accomplished…mystery at its best.")
Audiobook Reviews Archives Prior to July 2014