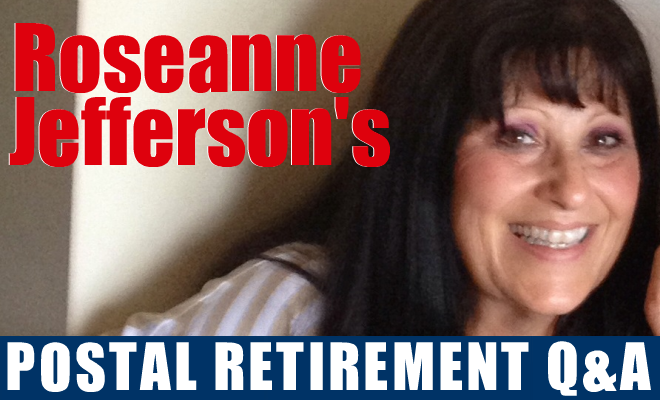 Roseanne is a retired USPS employee with an extensive background in USPS retirement, disability retirement, OWCP, EEO, Labor Relations and HR. She conducts individual and group counseling and is able to comprehensively discuss the pros and cons of employees who are on OWCP, disability retirement and regular retirement. Roseanne will be happy to answer your postal retirement questions. Contact Roseanne at roseanne.jefferson@icloud.com. Click here for prior Q&As and Click here for Q&As prior to July 2014.
Good Day Postal Employees……
The first question was so involved I answered it within the question itself.
Hi Roseanne, I began my postal career in December 1987. My date DOB is November-1956. I could retire with 30 years in 2017 but I loved my job and thought i would work until I was 65. Because of this I did not take the health insurance, as I was covered on my husbands insurance policy.
I like so many are not happy working for the post office, because of the climate of management and their lack of care for their employees, and their customers, which is why I am inquiring about retirement. I signed up for FEHB health benefits effective January 2014. Therefore still have over three years before I know that I can retire and take the health insurance into my retirement. Is this correct??
Yes this is correct, you must have 5 years of continuous coverage ( immediately PRIOR to RETIREMENT). But when you say you were on your husband's insurance…..is he a postal or federal employee? This question is crucial to giving you a CORRECT answer. (If spouse is a federal employee, the answer can be quite different). You must be covered for under FEHB until January 2019 before you can carry health benefits into your retirement.
I don't foresee any early retirements coming, but if there is one do I still have to have the 5 years to take the health ins. into retirement??
The rules are the same as it relates to FEHB health insurance and the 5 year rule.
During the next open season I have going to put my husband on my postal health insurance. Any info yet about the employee plus one for health ins??
I have still been looking and I have not seen anything as of yet to see if OPM is going to implement that change during this open season.
I sent you an email two years ago and you told me to contact you when I had about three years until retirement. The three year time is approaching.
Well this was a good time, so that you have the best information. Like I said, if you husband is postal this is a non-issue, but it sounds like probably not.
I will have to stay until December 2018 to have the 5 years of Health Insurance. I was considering retiring in Jan. 2019. By 2018 I will have almost a year of sick leave.
Yes, you MUST have the eligibility FIRST to retire, before you can add the sick leave. Sick leave cannot be ADDED to make 30 years or 20 years….you must have those years BEFORE the sick leave can be added in.
I am putting as much as I can into the TSP. Excellent, and you will eventually will be very glad you did. Thank you for all the help you give everyone. I'm sure you have changed many peoples' live for the better with your information.
Q 2. Hi Roseanne, I have what may be a simple question. I check my annuity estimate quite often on the liteblue website on postalease. I am MRA +10. Will retire at age 60 with 17 years of postal service. I know the there is 5% penalty for each year that you are under age 62. My question is, does the estimate given on liteblue have the penalty taken out? I called HR Shared Services and asked them the same question. The woman I talked to said "it should". I would like a more definite answer on that. Any help would be appreciated!. Thank you for your time, S
A 2. Hi S, In all of the cases that I have come across, when you are looking at a NARCES Annuity Estimate, and it is an MRA+10 Retirement, the MRA 5% "reduction" IS APPLIED on that annuity estimate. BUT UNDERSTAND THIS…that estimate is NOT GOING TO say MRA+10, it will still say OPTIONAL retirement…..(THIS IS A VERY IMPORTANT THING TO UNDERSTAND PEOPLE….!!!! VERY IMPORTANT..rj )
Keep in mind that there is another estimate that is reviewed by employees, called a Benefits Estimate Report. Although very similar in nature as the NARCES retirement report (as it relates to specific retirement information), each of them have differences probably only an HR person would understand, but there are differences. In the Benefits Estimate Report, I have also seen the MRA reduction applied….as THAT report will additionally show the PRO-RATION FACTOR REDUCTION (that I talk about frequently…that the NARCES doesn't), if applicable.
The reality is……if everyone would understand this simple mathematical calculation of their retirement (FERS) they would KNOW ABSOLUTELY if a reduction is applied…..and can even calculate their own retirement!! So again I would like to show how this is done for FERS…..a straight FERS…(what does she mean by that – a straight FERS ??)…What I mean is a retirement code # 8. FERS has another retirement code (A)..that one is NOT for this example. A regular FULL retirement is:
1. Your MRA (56-58) +30 (or more credible yrs)…that is FULL RETIREMENT….NO REDUCTION…AND ELIGIBLE FOR THE SPECIAL SUPPLEMENT. The calculation for that is 1% (x) your high average salary, times the number of years worked. (* If you are age 62, then the calculation increases to 1.1% (x) your high average salary times the number of years worked.)
2. Age 60 + 20 (or more credible yrs)….that is FULL RETIREMENT…..NO REDUCTION…AND ELIGIBLE FOR THE SPECIAL SUPPLEMENT. The calculation is 1% (x) your high average salary, times the number of years worked. (*If you are age 62, then the calculation increases to 1.1% (x) your high average salary, times the number of years worked.)
3. Age 62 + 5 (or more credible yrs)….that is FULL RETIREMENT….NO REDUCTION…The calculation is 1% (x) your high average salary times the number of years worked. Since you are 62, there is no Special Supplement, as you are then eligible to Social Security benefits.
Q 3. Hi Roseanne, I'm a rural carrier and will be retiring soon & will become eligible for medicare shortly after my retirement. My wife is 3 years younger, than I. Can I keep paying my family insurance policy till she becomes eligible for medicare? Thanks R
A 3. Hi R, The problem with your question is that you really don't understand your federal benefits !!! AT ALL!!! YES, you ABSOLUTELY can keep you and your spouse on federal health benefits into retirement. I would review some of my prior columns to review the website that has the manual regarding MEDICARE and FEHB,…read that….it WILL answer your question….in that manual on page 6, at the top. Roseanne
Q 4. Hi Roseanne, I am a 31 year postal employee and I turned 56 in April….Im 'in the club'. On the bid board today, jobs were posted. There is a Mon-Fri NTFTE job posted; 6 hours a day/5 days a week for 30 hours. I would like to work no more than 2 more years and would like to bid this job. I am currently a T3 Level 6 employee – my question is basically this… Will switching from a Full Time Regular to a Non Traditional Full Time employee affect my FERS retirement? And if so, how much. Thank you so much! D
A 4. Hi D, Well first….I could NEVER tell you or anyone, what the precise reduction(s) would be, based on an email. The reductions have to do with $$$ and hours. I have no clue as to what your "work" history has in terms of full-time versus part time hours (within those 31 years). If you read the column last month, it pretty much says there will be a reduction….and the why's of that reduction. So YES, there is going to be a pro-ration factor that will be applied to your retirement calculations if you are not working a full 40 hour week, even the last two years of your postal employment. HOW can you find out? You can call HRSSC and ask for a BENEFITS ESTIMATE REPORT, that estimate (not the NARCES) will show the pro-ration factor calculated on that report. At least for where you are now in a pro-ration factor. And if you are eligible to retire, then you should have no problem in getting that "specific" report from Shared Services (HRSSC). Once you review it, you will see "where" you are in the pro ration effect. If the majority of your career is full-time, you will see that on that particular estimate report. Roseanne
Q 5. Hi Roseanne, My question is how much does ex-wife get from my pension. im a FERS employee. Is there a formula or what? I was married for 6 years!! Can she only get what I put in? Oh, I am still an employee and will retire in 3.5 years. How do I get documentation for this. Thanks MO
A 5. Hi MO, When your retirement is calculated…it is your high 3 average salary x ALL of the years and (full) months of service (including sick leave). After that figure is added, then they have to figure the percentage that your ex-spouse would be entitled to. I would say if you worked 30 (or 35 regardless), her portion would be (HALF) of what 6 years (would net) and those 6 years would be 6%; that divided that in half 3%. So I would say after its all said and done 3% of monthly annuity that is calculated on the Annuity Estimate. Roseanne
Q5 -a. Wow.. Thank you Roseanne for getting back to me so FAST.. You are the BEST.. One follow up question how did you come up with 6 years equals 6 percent? How do I get documentation on this.. Thanks again MO
A5a, Hi MO, Well it just makes sense…that's why. If you have to give HALF of what the former spouse is entitled….If you have 30 years…your high 3 is 1%x that number.
Example Hi 3 (average salary) $ 60,000 x 1%= $600.00 X 30 yrs= $18,000.~ (divided) by (12 mo) = $1500 (per month) (that is 30% of your high 3 for working 30 years (1% for each year).
Of those 30 years you were married 6. Those 6 years are 6% of your high 3 average salary (spouse's entitlement to those years you were married and working at the PO). And if those 6 years is 6%, then her half of those 6 years is 3%. Roseanne
Final Response: OMG… I now get it. I have been researching websites and they have 6 divided by 30 equals 20 percent then she gets 10 percent.. All along it states the government is different .. Thanks again .. YOU ARE THE BEST!
Till we speak again……..Roseanne