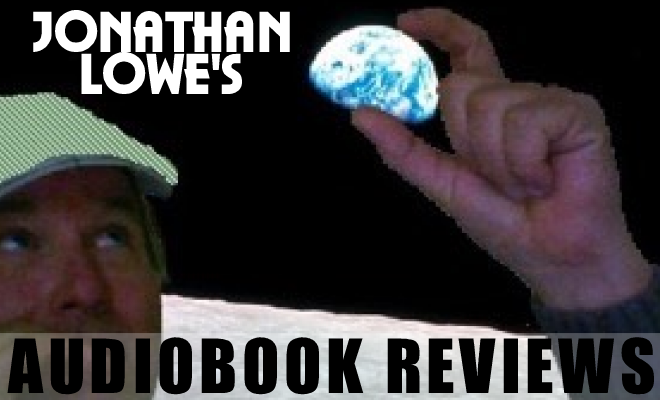 One of the things about fiction, particularly science fiction, is that it gives readers (or in this case listeners) the ability to conceive or imagine alternate ideas. Real life is fascinating—often more fascinating—but fiction allows enables people to see what might have happened had they taken a different path. Why is this important? Because life itself is about the journey, and decisions have to be made continuously until death (and even regarding death.) You still have decisions to make. The ability to see the future is what distinguishes humans from animals. Apes and dolphins can see into the future a bit, but we can imagine just about anything. Why be continually focused on what's "trending" when you can visualize what (might/could/should) be happening? Our attention spans have been eroded by television, with its constantly streaming images and soundbites. So a good way to extend your vision into the future is to imagine it, and to see, what Borges talked about: "the forking paths." Audiobooks are a way to extend your reading time, which may be limited in our furiously moving culture. Therefore it makes sense to add them to your day. Imagine what you'll imagine!
Some recommended titles this month:
Imagine America lost WWII. Philip K. Dick did. He's the author of many stories which became films, like Blade Runner, Total Recall, Minority Report, Next. In THE MAN IN THE HIGH CASTLE, which won him the Hugo Award for best scifi novel in the early 60s, slavery is legal once again, Jews still hide under assumed names, and in In San Francisco the I Ching is as common as the Yellow Pages since America is divided between Nazi and Japanese occupation. (Kinda like we're divided between the Red and Blue States of Democrat and Republican. Just kidding.) There is a wild zone between the two, like in the film Mad Max. A new mini-series is ongoing visualizing High Castle, so you can see that, or listen to the "audio movie" (audiobook) version narrated by Tom Weiner, whose always engaging voice talent can be heard on 250 other audiobooks, garnering him over 15 Earphones awards and an Audie nomination. "Castle" is indeed "high concept," as they say in the movie biz, as are most of Dick's books. And I hear there is a Blade Runner sequel coming too, and you can hear that on audio too. (For a real life alternate look at WWII, listen to HOME FIRES: The Story of the Women's Institute of the Second World War by Julie Summers, read by Juliet Mills, now a PBS series.)
Some other fiction that may interest you as you drive, cook, work, or shovel snow, are PRETTY BABY by Mary Kubica, read by the always great Cassandra Campbell, plus Tom Taylorson and Jorjeana Marie. It's a psychological thriller by the author of "The Good Girl" about a social worker who takes home a young woman and daughter they live (or do they?) to regret. THE GUILTY by David Baldacci is read by Keith Brewer and Orlagh Cassidy, about vigilante justice and a father who is arrested for murder in a small town. (Author's book Absolute Power was filmed by Clint Eastwood; have interviewed Baldacci about another of his excellent readers, Ron McLarty.) THE READING ROOM by Shelley Gray is read by star narrator Tavia Gilbert, a historical mystery set at the Chicago World's Fair. And THE EARLY STORIE OF TRUMAN CAPOTE by the author has a foreword by Hilton Als, and is read by Scott Brick, Nancy Linari, and Sarah Scott. Long before "In Cold Blood," Capote wrote about outsiders, left behind, oppressed and ignored. I asked Scott about this, and he responded, "The Early Stories of Truman Capote is a great new collection, filled with stories that had only been previously published in the author's school magazine. They're not as polished as we've come to expect from him, but even in the those that appear the most raw, they've still got that flair, you can still see the spark that will ultimately flame in his best known work. One of the great privileges of my life was to narrate In Cold Blood, and it was absolutely delightful to be back on board, not for new Capote, but on stories that the public will certainly never have seen before. Every page was a treat, just a delightful read."
Finally, in non-fiction, a movie starring Will Smith will be released Christmas Day, based on CONCUSSION by Jeanne Marie Laskas, the riveting story of Dr. Bennet Omalu, a pathologist who discovered CTE (Chronic traumatic encephalopathy) in football players. In 2012, when the controversy exploded, Omalu was besieged by the NFL, which called into question his qualifications and ethics after the autopsy of Junior Seau and "Iron Mike" Webster found CTE. (Over a dozen other autopsies of NFL players had shown CTE, but these had been ignored. By 2012 thirty-three players had been diagnosed with CTE, post-mortem. Some had comitted suicide in a mind-fog.) The NFL reached a settlement with widows and sufferers for $765 million, and as of September of this year, 87 of 91 deceased players have been identified with CTE. Hillary Huber narrates the audiobook, and she adopts the perfect "girl on the gridiron" tone to tell the full story of how all this happened…more than you'll see in the movie on-screen. Which is sure to be controversial and one of the best films of the year. After all, the NFL is one of the biggest corporations in America, a Goliath now trying to save itself from this "snafu" brought on by a whistleblower "David" by introducing new rules of engagement on "the killing fields."
The game must go on? From the publisher: 50 YEARS, 50 MOMENTS is a new audiobook that celebrates five decades of memories, insights, and personal experiences of Super Sunday. Super Bowl MVP Jerry Rice has compiled his list of the most iconic, strategic, and record-breaking moments in football history from the Super Bowl's inception to today—from the Green Bay Packers and Kansas City Chiefs in Super Bowl I, to the amazing Miami Dolphins championship in Super Bowl VII that capped their seventeen-game undefeated season, to the 'heart-stopping' Super Bowl XXV in which the New York Giants beat the Buffalo Bills 20-19, and Super Bowl XLIX's amazing last-second victory by the New England Patriots over defending champion Seattle Seahawks 28-24. A Hall of Fame wide receiver who has played alongside and against some of the greatest players in the NFL, Jerry Rice, joined by accomplished sports researcher and journalist Randy O. Williams, draws on his intimate knowledge and insight of the game to highlight remarkable moments from this greatest game in modern sports. Rice's access to the NFL means that 50 Years, 50 Moments is chock full of memories and insights directly from the athletes and coaches who were involved in these moments. Pulling together all the catches, the interceptions, the fumbles, and triumphant touchdowns that have made the Super Bowl an unforgettable experience, 50 Years, 50 Moments will feature marquee names like Joe Montana, Vince Lombardi, Roger Staubach, Walter "Sweetness" Payton, Terry Bradshaw, Joe Namath, Lawrence Taylor, "Mean Joe" Greene, as well as Tom Brady. 50 Years, 50 Moments is a must for football fans everywhere and is sure to be treasured for generations to come." Narrator is Mirron Willis, who also narrated MAGIC STREET by Orson Scott Card.
(My own latest are ebooks, "TrumpWorld" and "The World's First Trillionaire," both satire at Amazon. WFT (deviation of WTF) contains plot elements from three of my novels, and may have a few mere billionaires committing suicide!)