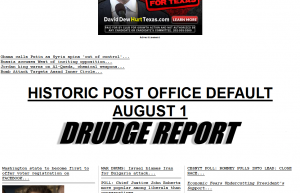 Like Drudge or not, the blog is a tremendous driver of traffic, and on the evening of July 18th, 2012, Drudge had as the main headline "HISTORIC POST OFFICE DEFAULT AUGUST 1." So get ready to field questions from anxious relatives and friends about the security of your postal job.
The headline points to a Wall Street Journal article titled "Post Office Might Miss Retirees' Payment." Of course, if you've been reading PostalMag.com lately you know the missed payment will have no impact on postal operations or employee paychecks. At this point, the missed payment is an accounting gimmick.
Drudge of late has been painting a picture of a world economy with epic failures of nations and cities going insolvent. That's not entirely true with the USPS, though the USPS is in danger of becoming a Paper Tiger* if reforms are not initiated soon that bring the USPS into the Electronic Age.
*In this case, Paper Tiger is used to convey a postal system awash in non-targeted, mass, paper mailings that have little or no "bark" or relevance at the delivery point.