Ambit Energy offers an outstanding part-time business opportunity for postal workers and others in California, Connecticut, Delaware, Illinois, Maine, Maryland, Massachusetts, New Hampshire, New Jersey, New York, Ohio, Pennsylvania, Rhode Island, Texas, Virginia and Washington D.C. The opportunity is selling electric (and gas) plans as an Ambit Energy Consultant and getting others under you to do the same.
Provide something (electricity) EVERYONE needs and uses.
Help others save money on their electric bills.
No inventory, no deliveries, and no collections.
Gather a handful of customers, and teach others to do the same. That's all!
Your Postal Retirement and/or Thrift Savings Plan may not be enough (this is your Retirement Plan B)
Many postal employees are shocked to find out their "legendary" postal retirement pay is not quite what public perception would have it be. That is especially true for FERS employees and particularly true for employees who have not put enough money into their Thrift Savings Plan. It's not uncommon for retiring employees to take a pay cut of thousands of dollars. That's why you need a Plan B.
Ambit Energy has the perfect part-time business for postal employees that offers both immediate rewards and long-term residual monthly income. Ambit Energy Consultants gather a handful of electric and gas customers and teach others to do the same. There's no inventory, no products, no deliveries and no collections. It's as easy as 1-2-3, providing a service that everyone uses. The business can be done in your spare time. And it's a perfect business for people who know a lot of other people.
Get Your Electric Bill Paid by Having Just Fifteen Customers
As an Ambit Energy Consultant, all you have to do is sign up and maintain fifteen electricity customers and you could have your electric bill paid each and every month (credit based on the average dollar amount paid by the fifteen customers). Having your electric bill paid each month, whether retired or not retired, can be a tremendous financial help.
Ambit gives consultants three ways to make money:
There are bonuses for signing up customers.
There are bonuses when your team members sign up customers.
Long-term monthly residual income. You'll be rewarded every time people pay their energy bill.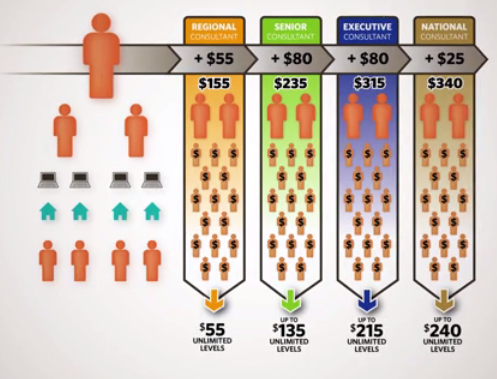 Earnings Potential
Here's an example of earnings potential if you have twenty customers and sponsor three consultants and those consultants sign up just two customers each on down the line (through 7 levels):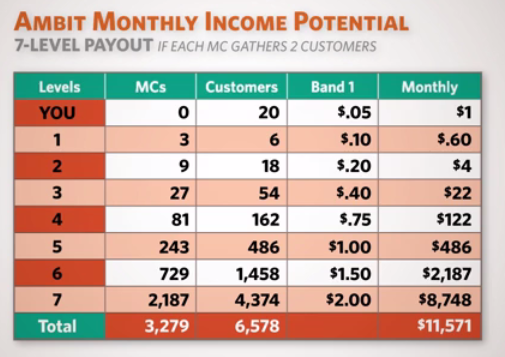 While Ambit Energy has a number of consultants earning this and more, not everyone reaches this amount of growth.
My Experience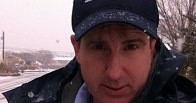 My sports league meets every Thursday night at a local taco place in Dallas. At the taco place I would notice another large group of people also meeting every Thursday. Eventually, I got to know some of these people and learned they were consultants for Ambit Energy. Initially, I wasn't interested, assuming Ambit Energy was probably like all the other direct marketing companies. Yet, as I continued to learn more I found out that several of the consultants had made over a million dollars with Ambit and that at least most everyone sitting with the Ambit group were getting their electric bills paid. The free electricity is what piqued my interest because I knew that most MLM opportunities had a few people at the top making all the money and the rest were making little or nothing and eventually abandoning the opportunity. But with little effort, even those on the bottom of the Ambit organization were earning free electricity. Having a large bill paid each month (plus the potential for larger earnings) is something I am certainly interested in, especially as I approach retirement, so here I am as a consultant myself promoting the Ambit Energy opportunity to you. I invite you to take a look at the opportunity and give it your consideration. I believe it's something that every postal worker (and others) could benefit and profit from. Whether you are setting yourself up for retirement, or just seeking extra income, this is a part-time business with tremendous potential for you. Unfortunately, the opportunity is not available in every state (available states are listed at the top of this page) but more states could become available in the future as the deregulation of electricity expands. – Tom Wakefield, PostalMag.com
Contact us for more information about the Ambit Energy opportunity