ALL OUR WRONG TODAYS: There's no such thing as the life you're "supposed" to have… You know the future that people in the 1950s imagined we'd have? Well, it happened. In Tom Barren's world, humanity thrives in a techno-utopian paradise of flying cars, moving sidewalks, and moon bases, where avocados never go bad and punk rock never existed . . . because it wasn't necessary. Except Tom just can't seem to find his place in this dazzling, idealistic world, and that's before his life gets turned upside down. Utterly blindsided by an accident of fate, Tom makes a rash decision that drastically changes not only his own life but the very fabric of the universe itself. In a time-travel mishap, Tom finds himself stranded in our world, what we think of as the real world. For Tom, our normal reality seems like a dystopian wasteland. It's an intriguing plot with pathos, anecdotes about love and happiness, science, and the possibility of eight new novels by Kurt Vonnegut. Elan Mastai is a screenwriter who co-wrote the movie FURY, starring Samuel L. Jackson. He also wrote THE F WORD, starring Daniel Radcliffe and Zoe Kazan.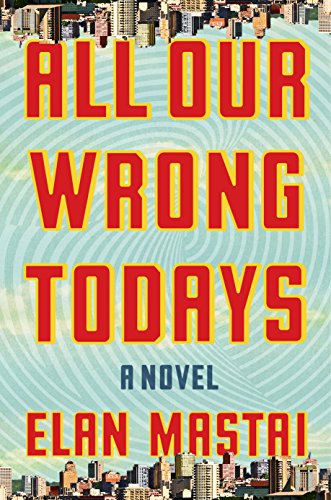 Jonathan Lowe) What is your experience related to narration or public speaking, and how was the recording process?
Elan Mastai) I used to host a radio show back in university, so I'm fairly comfortable sitting in a soundproof booth talking into a microphone for hours at a time. Hopefully that background served me well when recording the audio book.
JL) Regarding the physics of your alternate reality, I've heard it postulated that other parallel worlds may have physics different than ours. Is that part of what gave you the idea? Cat's Cradle defied physics too.
EM) In terms of the physics of alternate realities, a subject handled with great verve and imagination in Neal Stephenson's novel ANATHEM, I chose to focus primarily on how technological innovation altered the history and society of my parallel world. But of course I also opened the door to potential discrepancies, like a form of radiation that was discovered in the alternate world that we don't have here, what I call "tau radiation"—so the suggests differences do exist.
JL) Writing a novel requires a different skill set than screenplays. Have you written fiction before, like short stories?
EM) You're absolutely correct that writing a novel requires a different skill set than a screenplay. Screenplays, as you know, are written in the third person present tense, in a visually expressive but lean and laconic style. Of course a terrific novel can be written in that way too, but I chose to write All Our Wrong Todays in the first person, as a kind of faux memoir, because I wanted the protagonist's point of view to explicitly frame the way the story was told. Drawing off my experience writing dialogue for actors, I wrote the novel in a deliberately casual tone, which was a big help when narrating the audio book. I haven't published any short stories, All Our Wrong Todays is both my first novel and my first foray into literary fiction. But I've been writing movies for over a decade and, although a very different form, that experience greatly informed my novel-writing.
RAY & JOAN: The Founder movie stars Michael Keaton and Laura Dern, along with Nick Offerman and John Carroll Lynch, Patrick Wilson, BJ Novak, and Linda Cardellini. It's not Birdman, but there are moments just as fascinating. Keaton plays Ray Kroc, "the founder" who wasn't really…he was a shake machine salesman, down on his luck. A kind of Willy Loman with huge dreams and little success, shown with sympathy by both director and actor at the opening as he tries and fails again and again, despite listening to an inspirational sales recording on a record player in his hotel rooms on the road. When he sees the McDonald brothers' restaurant, he is skeptical until it gives him an expansion idea, and then more inspiration than any speech ever could. His ultimate goal isn't realized by the brothers until near the end, and that is to wrest the company from them, using their formula, and make a killing with it. He's a typical narcissist, and seizes on advantage with an eye for the long term. Accordingly, as also told in more depth in the audiobook, he sets his sights on franchises, and his first CEO's idea that he can only oust the brothers by focusing on real estate, with the line, "You're not in the hamburger business, Ray, you're in the real estate business." So Kroc becomes a real estate tycoon, leasing property to franchises and thereby controlling them. This includes the brothers, who are cheated out of hundreds of millions by a handshake deal for 1% that they couldn't prove happened. The key to Kroc's success, as related with always believable tone and nuance by Keaton, is persistence. Never giving up the quest. There was also a huge luck factor, as has been shown in the cases of other titans, like Steve Jobs and Bill Gates. Being at the right place at the right time was vital. Add the right product, a revolutionary idea, and you have what McDonalds has become: the most successful restaurant in history. Is bigger better, though? A key quote is the question asked by Kroc in the film to one of the brothers: "If my competitor was drowning, I'd walk over with a hose and spray him in the mouth. Would you?" McDonald responds, "No, I wouldn't do that." And Kroc's response, "That's why you're in one location and I'm nationwide." The McDonalds are later forced to remove the name from their one store, as Kroc then owned rights to their name. Ironic? Amazingly, all were relentless in business during their climb to the top, only to give a major portion of their fortunes to charity after retirement, when they realized they are mortals after all. (In the case of Kroc, his wife was generous…not his first wife but a franchiser's wife, whose husband signed up only because Ray was in love with her. Gates' wife changed Bill in another way.) Interesting. A must watch, and must hear. Regarding the audiobook, Lisa Napoli is a skilled narrator (a rarity) and a journalist whose last staff job was on the public radio show Marketplace (which explains it.) An early chronicler of the dawn of the World Wide Web as a columnist at the New York Times CyberTimes, she has also been the Internet correspondent at MSNBC. She began her career at CNN, worked in local news in North Carolina, and has directed several documentaries about Southern culture. Her book sets the record straight on Ray & Joan, she told me, including some things the film's screenwriter got wrong.
Own a home, or thinking of buying one? THE MONEY PIT series is now on audio. It's a radio show recommended by Talkers magazine, and can be downloaded or bought on CD or Mp3-CD. The great thing about that is there's no commercials, and you can skip ahead to whatever you like. Tom Kraeutler and Leslie Segrete host, taking calls from listeners on every conceivable subject. The series is ongoing, each volume about 9 hours in length. You can get whatever volume fits your needs, or if you're into real estate or house flipping, the whole series would be a huge education. Entertaining, especially if you're driving a lot and are tired of political talk radio and the endless junk food ads. Here's what just one volume has: Fixing Flooded Yards, Easy Cleaning Tips, Adding Outdoor Lighting, Get the Look of Wood without the Maintenance, Fence-Building Tips, How to Know If a Home Is Worth Fixing. Fixing Stuck Windows, Replacing Your Fence, Tips on Color Choices, Bath Updates to Cut Water Costs, Best Home Improvement Projects for House Value. Protect Your Home from Storm Damage, Tips on Trouble-Free Plants, and How to Contract with Your Contractor, Building Blocks for Backyard Projects, Easy Appliance Cleaning Ideas, Spot Termites before They Dine on Your House. Tips for Deck and Fence Stains; Backyard Bee Hives, Screening Porches and Patios; Finding Hidden Storage Spaces; Fresh Filtered Water from Your Fridge; Stopping Mold, Mildew, Algae, and Moss. Dress Up a Boring Garage Door, Installing a Pet Door, Mold and Mildew Removal Tips, Father's Day Top Gift Ideas, Picking the Perfect Mattress, Keeping Away Dangerous Radon Gas. Cutting Pool-Heating Costs, Building a Pollinator Garden, Prevent Slippery Sidewalks, How to Stage Your Home for a Fast Sale, the Next Generation of Smart Home Products, Ideas for Kitchen Counter Makeovers.
Other titles I've heard this past month that I can recommend are HIT MAKERS: THE SCIENCE OF POPULARITY IN AN AGE OF DISTRACTION by Derek Thompson, read by the author. OUR LADY OF THE OPEN ROAD, scifi stories by various authors read by various narrators. REALITY IS NOT WHAT IT SEEMS by Carlo Rovelli, read by Roy McMillan. THE AISLES HAVE EYES: How Retailers Track Your Shopping, Strip Your Privacy, and Define Your Power by Joseph Turow, read by Rob Grgach (yes, that spelling is correct.) For anyone wishing to support literacy on Youtube by reading a short passage from any fav print book, go to Good-Reads.blog for details. And be sure to leave comments about what you like, and why.