Have you ever thought about just getting away from it all, whatever "it" is? (A cubicle job, McNews, social media, sports, traffic.) A 20 year old named Christopher Knight did just that permanently: just walked away, into the woods. In an amazing story chronicled in THE STRANGER IN THE WOODS, written by journalist Michael Finkel, Knight left his home in Massachusetts and drove to Maine, where he set up camp in the wilderness in 1986…and stayed there for the next twenty-seven years. Not speaking to anyone. You've seen the show "Naked and Afraid" and "Survivor." What if the show never ended? Why did he do it? "I never fit in anywhere," Knight said. He was shy, but intelligent. He learned how to store water and food. He hunted. He stole from the nearest town, and left cabins in such a way that one could never be sure anyone was there. Never visited a doctor. "I was never sick," he said. "You get sick by being around other people." He read books, and was eventually caught and jailed…then released. He felt remorse, but also contentment. He preferred to be alone, to be private, with no desire for money or fame or what American culture thinks vitally important. Subtitle is "The Extraordinary Story of the Last True Hermit." On audio it is narrated by actor Mark Bramhall, profound in parts, and reflective. Often we need someone with a completely different viewpoint to hold up a mirror to what we are doing to ourselves. Is his a good example for others? Obviously not. But there is a middle ground between fanaticism and being a hermit or monk, and we can all learn from such a story.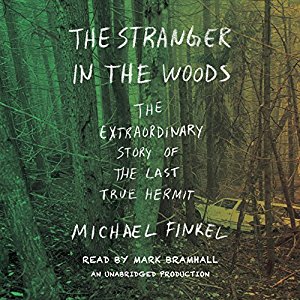 If you follow the news (not being a hermit) you have heard reports of cruise ship incidents involving crimes on board (not just accidents and noro viruses.) Most ships are registered in Caribbean or African countries to avoid taxes in the United States, which is why they are such bargains for passengers (and why the cruise lines spend billions on new luxury ships.) In addition to the gambling and drinking which make cruises profitable (they simply break if you don't gamble or drink or take shore excursions) there is the setting, on the high seas of international waters, that make them appealing to criminals. Thefts, rapes, murders: these happen in descending order of frequency. The cruise lines do not want publicity on this, and so tend not to report incidents, even if someone is thrown overboard (unless the FBI might be called because of US connections.) They try to offer compensation—free trips, money—in exchange for a non-disclosure signature. Think about it: you are on a ship full of foreign service workers with increasing animosity to American or UK passengers, paid low wages for long hours servicing fat or spoiled revelers who get drunk, talk loud, brag, and laugh. Gluttons (by comparison) who return again and again to the lavish buffets that…well, nevermind. How easy would it be to toss someone over the rail? I once wrote a mystery story series for Porthole cruise magazine, and included a "tossed overboard" scenario at the climax of my novel The Methuselah Gene. Anyway, a great audiobook by debut novelist Catherine Ryan Howard (who was born in Cork, Ireland) is DISTRESS SIGNALS. When Adam Dunne's girlfriend Sarah fails to return from a Barcelona business trip, his tension increases by the day, especially after her passport returns with the note "I'm sorry." He connects her to a massive cruise ship called the Celebrate—and to a woman, Estelle, who disappeared from the same ship in eerily similar circumstances a year before. Now he must outwit a predator who seems to have found "the perfect hunting ground." First novelists, being unknown, have to do their research and really impress. Remember The Firm by John Grisham, or James Patterson's first novels before he got famous and started hiring dozens of co-authors? You can't be lazy, not with a first novel. Bear that in mind when I tell you to give this audiobook a listen. Distress Signals goes deep into character, with many twists and turns, an awesome setting befitting the news, and some great pro narrators like Alan Smyth, actor Bronson Pinchot, and Suzanne Toren. A must hear. Prior to writing full time, Catherine worked as a campsite courier in France and a front-desk agent in a hotel in Walt Disney World, Florida, and most recently as a social media marketer for a major publisher. She is currently studying for a BA in English at Trinity College in Dublin.
Other new audiobooks worth hearing this month (due to a good match between author and narrator) are HEARTBREAK HOTEL by Jonathan Kellerman, as narrated by actor John Rubinstein. LION (basis for the movie) by Saroo Brierley, read by Vikas Adam. DEATH OF A GHOST by M.C. Beaton, read by Graeme Malcolm. THE INKBLOTS (non-fiction about the Rorschach Test) by Damion Searls, read by Paul Boehmer. ANDORRA by Peter Cameron, read by Robertson Dean.
(Jonathan Lowe is the award winning author of five novels, including Postmarked for Death and The Methuselah Gene. He worked for over 20 years as a postal clerk, where he listened to hundreds of audiobooks.)