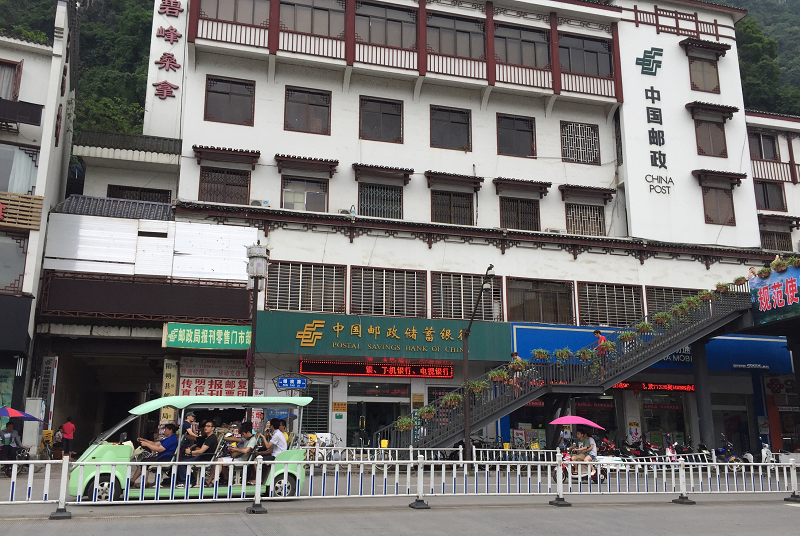 I keep hearing about how the USPS could be entering the financial services arena, also known as postal banking, at some point in the future. And I keep wondering how the USPS, whose core competency is delivering the mail, could also offer banking services, a totally separate service. I'm also having trouble seeing how the current clerk complement at my post office, who are already short-staffed with a deluge of parcels, mail sorting, window services, box section, etc. will accomplish the postal banking task. I'm also having trouble understanding how my current supervisors, who are already in over their heads, will also handle the financial accountability of postal banking. But I'm no expert on the subject and I'm guessing there will be a plan.
I'm in China this week. I have traveled to several major cities including Shanghai, Guilin, Yangshuo and Chengdu. On a similar trip to China three years ago, I also visited Beijing and several other different cities. Well, the Chinese offer postal banking, but they offer it at dedicated postal banking locations. I have never seen postal banking and post office operations in the same room. I think I have seen them side-by-side, but the postal banking is always done separately. For example, in Yangshuo, the China Post postal banking is accomplished at the building in the photo above. The China Post post office that handles letters and packages is several blocks down from the above building. That is true across China from what I have seen. I'm not saying the USPS couldn't handle postal banking from the same locations as post offices, but I'm seeing here, at least in China, the two operations are operated separately and probably for good reason. Postal banking could have a large impact for the USPS and postal customers. But it looks like postal banking could require a lot more employees and locations to accomplish the task, if China is any indication and the Postal Service proceeds with the most aggressive approach of offering full banking services.
PHOTOS: The first photo below is the China Post postal bank in Yangshuo, China, complete with security windows. The actual China Post post office (second photo) that handles mail is several blocks away.