In protecting revenue, Sales and Services Associates need to recognize parcels that have been short-paid, via the misuse of online postage payment methods. In many cases, assessing postage due is merely a matter of weighing the parcel in question, and subtracting affixed postage from required postage. This becomes less obvious in the assessment of cubic pricing, a relatively new commercial rate flat rate option.
In January 2010, the Postal Service introduced cubic pricing, a flat rate price, offered to Commercial Plus mailers. These rates are based upon dimensions rather than weight. Unlike other Priority Mail flat rates, cubic weight pricing does not require the use of pre-printed Priority Flat Rate boxes, manufactured by the Postal Service. Rates for the five flat-rate tiers are based upon the zone of destination and the size of the box, in .10 increments, from .10 up to .50 cubic feet. Parcel displacement can not exceed the fraction of cubic feet printed on the postage label. Additionally, items mailed at cubic prices can not exceed 20 pounds.
To calculate cubic feet, multiply length by width by height of the parcel, rounding down to the nearest quarter inch. For example, a parcel measuring closer to 7 1/4 inches than 7 1/2 inches would become 7.25 inches. After multiplying the three dimensions, divide by 1728 (inches per cubic foot) to obtain the measurement in cubic feet. Rate charts for Commercial Plus Cubic pricing appear in Notice 123. There is also a separate chart for determining cubic dimensions and pricing of soft-pack and padded envelopes by adding their length and width.
As an example, suppose you are mailing a parcel weighing 5 pounds to Fairfax, CA, 94930 (Zone 8). The parcel is relatively small, measuring 8.25" by 7.5" by 7". 8.25 x 7.5 x 7 = 433.125. 433.125/1728 = .2506. The parcel falls under .30 and qualifies for the .30 CU pricing tier. As of January 17, 2016, the retail price for this parcel is $23.15. The .30 cubic price is $11.03, a savings of $12.12.
Cubic pricing also applies to soft pack and padded envelopes, based upon their length plus width measurements, as shown in the following chart (source: http://pe.usps.com/text/dmm300/223.htm):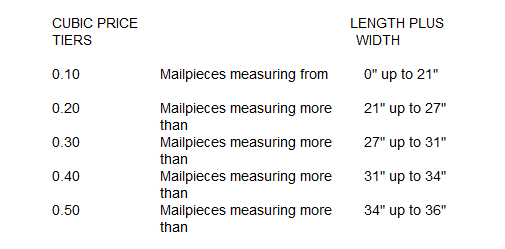 Clearly, potential revenue loss is high on large parcels that don't meet the dimensions of the appropriate cubic pricing tier, making it necessary to know how to assess the cubic size of boxes and have access to rate charts that provide the amount of postage on cubic priced postage labels.
More information regarding cubic pricing is available through Postal Explorer at http://pe.usps.com/text/dmm300/Notice123.
By Rich Weiss
Founder
Postal eCareer Writing Services
www.postalecareer.com
Author, The Metamorphosis of Timothy Dunn
www.richardpweiss.com
(PHOTO: Courtesy USPS Media Center)