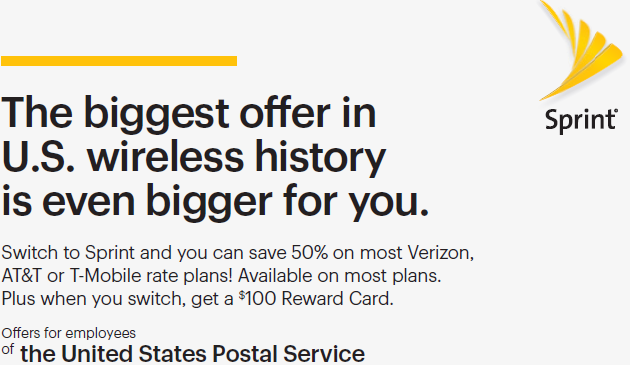 Switch to Sprint and SAVE 50% Off when you leave Verizon, AT&T, or T-Mobile
– Offer available on most plans. 50% off applies through 2018.
– No additional discount will apply.
– When the 50% discount expires March 2018, your 25% USPS Discount will kick in. Once you active please complete validation of your USPS discount once you activate at sprint.com/verify.
– Use Corp ID Code: GUSPS_ZZZ
Offer valid 2/12 – 4/7
PLUS – $100 AMEX card with a New Account
1 card per new account to receive your Amex Card customers must activate a new line and validate on their Corp ID, register at sprint.com/promo
Offer valid 2/12 – 4/30
Contract Buyout was extended for a Limited Time
– We'll pay your switching fees up to $650 per line
– Via an American Express Reward Card after online registration and phone turn in