This page contains information about the Hurricane Katrina aftermath as it relates to the United States Postal Service.



Aerial photos of New Orleans postal facilities (post-Katrina)


USPS Establishes Employee National Emergency Hotline (1-888-363-7462)


USPS Hurricane Katrina Updates
News and Info
12/15/2005

Katrina VER Information
"The Postal Service has received approval from the Office of Personnel Management (OPM) under its Voluntary Early Retirement Authority (VERA) to offer VER to career employees in the Louisiana and Mississippi Districts. The VER effective dates for full-time employees for this VER offer will be January 31, 2006, February 28, 2006 or March 31, 2006. The VER effective date for part-time employees (PTF and PTR) for this VER offer will be March 31, 2006."
- APWU: USPS to Offer Early Retirement to Katrina-Impacted Employees
12/13/2005

New Orleans mail takes long route home
"Mail delivery has resumed on half the city's routes since Hurricane Katrina struck on August 29 but residents of entire ZIP codes still need to pick up letters at a temporarily assembled set of caravans under the shadow of the Superdome. Residents say it takes up to 10 days to receive their post, which can still be mixed with letters sent closer to the date of the storm. Some make frequent trips to the pick-up center, waiting anxiously for wage checks and insurance compensation."


Photos: 1 | 2 | 3
11/09/2005

USPS to Offer Voluntary Early Outs to Employees Severely Impacted by Hurricanes
"The Postal Service has received authority from the Office of Personnel Management to offer Voluntary Early Retirements (VER) to postal employees (including Postmasters) in areas that were severely impacted by Hurricanes Katrina and Rita. The USPS will determine who will be offered VER's in the storm torn areas of AL, LA, MS, and Houston."
10/12/2005

APWU: Vacancies for Katrina-Impacted Employees
"The APWU has been provided with lists of residual vacancies that may be available to employees displaced by Hurricane Katrina. A Sept. 27 Memorandum of Understanding [PDF] between the APWU and USPS stipulates that impacted employees may request voluntary transfers to post offices throughout the country. If practicable, such requests will be approved."
9/28/2005

USPS and Unions Reach Agreement on Work Issues Arising from Hurricane Katrina
"The specific provisions in the union agreements differ, but the main intent of both MOU's is to minimize the effects of dislocation and inconvenience to employees while maintaining the efficiency of Postal Service operations in Katrina's aftermath." APWU Memorandum (PDF) | NPMHU Memorandum (PDF)


APWU, USPS Reach Agreement On Workers Displaced by Katrina


Displaced employees rebuilding their lives
9/27/2005



USPS: Rita Recap
"An initial assessment found that 37 customer service facilities In the Houston District and 12 in the Dallas District were damaged or without power. And the city of Beaumont, TX, remained under a mandatory evacuation order. In Louisiana, the Lake Charles area was most affected, with six offices flooded and the city closed to all but essential personnel - which includes USPS employees. Floods and power outages also affected offices in the 703 and 705 ZIP Codes." Photo: A Postal Inspector sifts through debris in Cameron, La. Photo 1 | 2 | 3 | 4.


Mail Piles Up in Wake of Katrina As Carriers Seek Recipients


Katrina: 'No One Responded Better Than U.S. Postal Service'


Katrina took homes, but the mail still comes


Katrina reduces supply of lockable mailboxes


Rita: Postal Service Prepares to Re-Establish Service


USPS Hurricane Rita Updates
9/23/2005

Katrina: All present and accounted for!
USPS Link Online: "As of yesterday, all 6,052 employees were accounted for - with no serious physical injuries."


Postal Inspection Service and Postal Police Officers Assist in Katrina Recovery
HURRICANE RITA


Rita: Hurricane Headed for Gulf Coast


USPS Hurricane Rita Updates
9/22/2005

And now - rebuild: Post offices, communities emerge from devastation
USPS Link Online: "In the weeks following Hurricane Katrina, USPS focused on three things - respond, reconnect and re-establish. Now, we can add rebuild to that list. From such humble beginnings as a tent set up in a parking lot, service is resuming. In Waveland, MS, the Post Office was completely destroyed by the storm. But employees are back at work, helping their friends and neighbors begin the process of rebuilding their lives."
HURRICANE RITA


Postal Service suspending services in areas covered by mandatory evacuations


Texans flee colossal hurricane: Storm is third most intense ever
9/21/2005

NALC/USPS Work to Fill Vacancies with Displaced Gulf Coast Carriers
"Because of the emergency nature of this situation, the Postal Service has agreed that the temporary placement of these employees in local installations is appropriate," NALC President Young said. "We are working with the Postal Service on identifying vacancies that currently exist and it is our intent to accommodate as many displaced employees as possible who are seeking transfers to post offices where they are now located." (NALC Bulletin)


Postal Service starts drive for hurricane victims


Postal Service opens offices in Mississippi


APWU Donates $60,000 to Postal Employees Relief Fund


Arslan donates uniforms to postal workers in hurricane area


NPR Audio: PMG Discusses Mail Service
9/20/2005

Dallas District Welcomes Displaced Employees
"About 60 Gulf Coast USPS employees displaced by Hurricane Katrina had an orientation meeting at North Texas P&DC last week. "You are our family - our postal family," Dallas District Manager Carl January told the employees. "We are going to do whatever we can to comfort you and to help you."


NPMHU urges action on Bush order that cuts Katrina wages and benefits
9/18/2005



PMG Thanks Employees During Gulf Coast Tour
"Postmaster General Jack Potter yesterday visited the Gulf Coast -- meeting with employees and touring postal facilities and the Louisiana Emergency Operations Center (EOC) -- in communities hit hard by Hurricane Katrina." Photo: PMG Potter stands on the slab of the former Waveland, Mississippi Post Office. Photo 1, 2, 3, 4, 5. (Flickr.com).


UPS delivers some comfort along with packages
9/16/2005



USPS Is Donating $250,000 to the Postal Employees' Relief Fund


We Deliver - to the Gulf Coast
9/15/2005



Postal Service Making Progress in Katrina-Stricken Areas
"Sixty New Orleans-area Post Offices are back in service, including eight that came on line Monday. Home delivery is not yet restored in all of those areas, but customers in ZIP Codes with working Post Offices can receive mail at the counter. USPS is using more than 30 generators to power facilities without electricity in Louisiana and is using 26 mobile buildings where Post Office buildings were damaged." Photo: PMG Potter meets with a Louisiana carrier who lost his home.


Mail service resumes in many Katrina-stricken areas
9/14/2005



Post office popular in Astrodome shelter
"This may be the age of cell phones and the Internet, but when it comes to bringing news from home and money, nothing here beats the U.S. Postal Service. The phrase "the check is in the mail" has taken on life-and-death consequences for evacuees." Photo: A displaced customer receives a FEMA relief check at the Astrodome. (USPS photo)


Part city, part 'Third World country'


Postal Service grants New Orleans carrier temporary work in Wisconsin


Florida letter carrier rescues family from carbon monoxide poisoning
9/13/2005



USPS: Relief is in sight
"Hurricane relief efforts continued this weekend and USPS employees stood where they always have in times of crisis - by their friends, neighbors, co-workers and their communities. Whether it was helping unload shipments of ice or tractor-trailers filled with care packages, USPS employees were there."


Hurricane reroutes New Orleans postal worker to Wisconsin
9/12/2005



District Manager's Decision Angers Postal Workers
"EMPLOYEES TOLD TO WORK DAY AFTER KATRINA: "They willfully and blatantly ignored the safety and health of people by ordering people to report to work and stay at work," said Melanie Bennett, president of the Hattiesburg area Local 1311 of the American Postal Workers Union. She and other workers are calling for a congressional investigation into the actions of Mississippi's District Manager James Daily, who was responsible for updating a phone message that advises workers whether they should report to work." PHOTO: A letter carrier delivers mail in Biloxi, Mississippi. Photo 1, 2.


Postal Service Delivers: 80% of Mail Service Restored


Postal Service Continues to Restore Mail Services Along Gulf Coast


Catalogers Shift Circulation Away From Katrina
9/10/2005


Makeshift Post Office Opens at the Astrodome
"IMAGE: While lines develop at the windows of a makeshift U.S. Post Office in a former ticket booth outside the Astrodome, Terrelle Calaiste of New Orleans uses a towel to cover his head from the blazing noon-day sun and waits for the rush to subside before heading up the ramp for his mail on Friday, Sept. 9, 2005, in Houston. Survivors of hurricane Katrina were getting their first deliveries of general mail on Friday at their temporary home in the Astrodome."


APWU: Red Cross Shelters Serving Katrina Victims


Mississippi Postal Workers Must Report to Work


e-NAPUS Newsletter: Katrina's Legislative Undertow (PDF)


Service Reestablished at Many Louisiana Post Offices
9/09/2005



Potter on CNN
"The Postmaster General and each District Manager sent a Newsbreak yesterday to each district asking employees if they know the whereabouts of any displaced employees temporarily sheltering in their districts to urge those employees to contact the Postal Service by calling 1-877-477-3273."


USPS Reopens Some ZIPs to Standard Mail


Houston Post Offices To Accept Food Donations on Saturday


APWU: Contact Information


UPS Joins Louisiana Emergency Relief Team
9/08/2005

USPS: Katrina Damage Could Surpass $100 Million
"The U.S. Postal Service sustained infrastructure damage of roughly $100 million, an agency official said yesterday, as a result of Hurricane Katrina, which ravaged much of the Gulf Coast last month. Thomas G. Day, senior vice president of government relations, told reporters yesterday that the damage extends to buildings, vehicles, processing equipment in the buildings, retail equipment and vending equipment."


Displaced and evacuated postal employees may pick up payroll checks at the Baton Rouge P&DC this Thursday and Friday


2,000 Postal Workers Missing


NALC Donates $50,000 for Katrina Aid to Postal Employees' Relief Fund


Post office tries to forward mail, establishes 'phantom box number'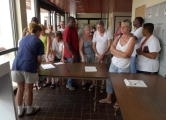 GULFPORT, MS - SEPTEMBER 3: Residents wait for their social security checks at a post office September 3, 2005 in Gulfport, Mississippi.
9/07/2005

CITY'S NUMBED SURVIVORS DWELL IN A 'MAD MAX' HORROR WORLD OF THE APOCALYPSE
"As we drove back on the freeway, I saw a man and boy poking through an abandoned mail truck covered in gang graffiti."

Letter carrier ditches route for rescuer's role
"A Port St. Lucie letter carrier shocked his bosses Tuesday when he turned up on National Public Radio -- and said he was more than 750 miles away. Jim Osborne, 47, was scheduled to report to the Orange Avenue post office in Fort Pierce but ended up on his airboat in the flooded streets of New Orleans, searching for survivors of Hurricane Katrina. His bosses didn't find out until their drive to work Tuesday morning, when they heard Osborne on NPR's Morning Edition, said Joseph Breckenridge, a U.S. Postal Service spokesman. "I'm a letter carrier with the postal service, and I will be AWOL," Osborne said in the radio report, which detailed rescue efforts near the French Quarter."


USPS Returns to Some Flooded Areas


PMG looking for Katrina-displaced employees
9/06/2005

Postal Worker Returns Home to Jefferson Parish
"Back on Ole Miss Drive: Drew Oddo carried televisions out of the bedrooms of his son and daughter. Drew and his father, Bob, who also lives on the street, drove in from Houston through the night. Pine needles crunched under Bob Oddo's feet as he surveyed the damage to his grandmother's 100-year-old baby grand piano. "You deal with it," said Mr. Oddo, 53, a postal worker. "That's it. It reminds me of the Bill Cosby routine: There's always somebody who's had it worse. But what about the guy who has it worse than anybody. That's me." (Dallas Morning News, 9/06/2005)
9/05/2005

USPS: Finding Employees, Delivering the Mail
"More than 2,800 employees in the Hurricane Katrina disaster area have contacted the Postal Service to let us know they are safe and to give us their contact information. The national media has helped us get the word out to employees by publicizing our toll-free number, 1-877-477-3273, as have employees with information about displaced employees. Many of our employees who lived in the storm's path are now scattered across the country, living temporarily with relatives and friends or in hotels."


Map showing status of Katrina-affected post offices


Postal services set up at shelters


Postal Service Moves to Reconnect With Customers


USPS Struggles Delivering to Disaster Area
9/04/2005

PostalMag.com Obtains Aerial Photos of New Orleans Postal Facilities
Utilizing Google Maps PostalMag.com has been able to obtain high resolution aerial photos that show the extent of flooding to areas with New Orleans postal facilities.
9/03/2005

Helping Our Postal Family
PMG Potter: "I was proud to learn that some employees who sought shelter outside of the affected areas reported to local Post Offices for work and to do their part to help in this time of crisis. We've received calls from other affected employees who plan to relocate temporarily to live with family members all across America. They are calling to ask if they can work rather than be forced to use leave or go without pay at some point in the future."


Unlike some federal agencies, the USPS planned ahead


USPS Photos of Hurricane Damage


Cleaning up records mess
9/02/2005


APWU Local President Helping Hurricane Victims
"Tim and Mary Jo Hurley of College Station say they expect to open their home to displaced postal workers. As president of the local branch of the American Postal Workers Union, Tim Hurley is coordinating an effort to find food and shelter for his counterparts from Louisiana. He said the postal workers union based in Houston sent out an e-mail with the emergency number so postal workers can call in and find out how to get their paychecks and insurance funds. He then decided that those who end up in the Brazos Valley should have a place to stay and food to eat. "They're our people, so we should take care of them," he said. "We're ready to help for weeks or months or as long as it takes." IMAGE: Astrodome gets own zip code.


Evacuees can get free post office boxes


Gene Del Polito: One of Katrina's many lessons


Information for Mail Handlers Affected by Hurricane Katrina
Postal Service sets up centers for mail pickup
"The post office set up locations Thursday for residents of the area devastated by Hurricane Katrina to pick up their first-of-the-month checks, and said it is no longer accepting magazines or bulk mail for delivery to the damaged area. First-class mail for New Orleans is currently being held in Dallas and will be forwarded from there."


APWU: Hurricane Katrina Update
9/01/2005

USPS urges displaced employees to notify the Postal Service of their whereabouts
"The Postal Service continues to do everything possible to deliver mail to as many customers as can be reached safely in the flooded and wreckage-strewn areas in Louisiana, Mississippi, Alabama and Florida that were in the path of Hurricane Katrina.

Power outages, closed roads, high water and other obstacles are making it difficult for the Postal Service to reach customers — as well as many of our employees — in the areas hit hard by the storm. About 2.3 million residents remain without electric power and fuel is in short supply due to the loss of refining capacity along the Gulf Coast.

The Postal Service is very concerned about the safety and well-being of its approximately 6,000 employees in the disaster area, particularly those who haven't been in contact. Employees are urged to use the Employee Service Line, 1-877-477-3273, to notify the Postal Service of their whereabouts.

This is the same toll-free number for PostalEase. Callers will hear: "If you are an employee in a work location that is closed due to Hurricane Katrina, press 1." The employee will be transferred to a USPS Call Center agent, who will collect the employee's information.

It is very important that employees displaced by the hurricane call this number so the Postal Service will be able to contact them to make sure they are paid and to give them important job-related information.

If you are in contact with any employees displaced by Katrina, please ask them to call 1-877-477-3273 toll-free and answer the questions asked by the USPS Call Center agent so the Postal Service will be able to contact the employee with pay and temporary work assignment information."
8/31/2005

APWU: Contact Information
"APWU members affected by Hurricane Katrina can call special phone numbers to find out where and when to report to work. There is also a special contact number for members who are unable to work:
To inquire when and where to report to work: 1-888-363-7462
To notify management of inability to work: 1-877-477-3273
TTY: 1-866-833-8777
The pay of employees who use direct deposit will not be interrupted. The APWU is discussing with management options for paying employees who do not have direct deposit.
People in need of immediate relief should contact www.fema.gov, or call 1-800-621-3360."
USPS Establishes National Emergency Hotline
"A hurricane is no match for an informed workforce.

"In the aftermath of hurricanes Charley and Frances, Postal employees in Florida have turned to the USPS National Emergency Hotline for an information lifeline. By calling this number - 1-888-363-7462 - they've learned about facility closings, changes in reporting times and other workplace information.

Recent experience in Florida shows that local phone message systems are too vulnerable to power failures and other storm-related damage. The national hotline number provides employees with a number to call outside their immediate area.

This dedicated toll-free system was developed by a partnership between Emergency Preparedness and Information Technology. Originally launched in April in support of biohazard detection system deployment, the hotline number has proved a valuable link for employees in hurricane-ravaged Florida.

When employees call the number in the event of an emergency, they're prompted for the first three digits of the ZIP Code where they work. They'll hear information specific to their district. Districts are responsible for updating their own messages.

If the caller is hearing-impaired and uses Telecommunications Relay Services (TRS), they will call their state TRS toll-free number and the TRS operator will handle the call.

Add this number to your rolodex: 1-888-363-7462. When hurricanes - or ice storms, blizzards, hazards or threats - happen, stay informed. Our customers count on us."
APWU: Katrina Update
"Parts of Alabama, Florida, Louisiana, and Mississippi have been declared disaster areas as a result of Hurricane Katrina.
The APWU Human Relations Department has compiled the following information to aid our members and their loved ones in efforts to receive assistance.
Red Cross
The Red Cross disaster relief focuses on meeting people's immediate disaster-related needs, such as shelter, food, and health and mental health services.
Victims of Katrina should contact their local Red Cross Chapter. Local chapters can be found at www.redcross.org or by calling 866-Get–INFO (866-438-4636). Please note that many of these chapters were also impacted by Katrina: You may have to contact a different nearby office.
We hope to provide a list of local Red Cross Chapters in the four affected states to this page on Wednesday.
FEMA
The Federal Emergency Management Agency (FEMA) prepares the nation for all hazards and manages federal response and recovery efforts following any national incident. FEMA's Disaster Program includes up to $26,200 in cash grants per eligible individual or household for:

Housing Assistance


Lodging expenses reimbursement (for a hotel or motel)


Rental assistance (cash payment for a temporary rental unit or a manufactured home)


Home repair cash grant


Home replacement cash grant


Permanent housing construction in rare circumstances

Other Needs Assistance


Medical, dental, funeral costs


Transportation costs


Other disaster-related needs
Affected residents and business owners in the designated Counties can begin the disaster application process by registering online at www.fema.gov or by calling 1-800-621-FEMA (1-800-621-3362), or 1-800-462-7585 (TTY). The toll-free telephone numbers will operate 24 hours, seven days a week, until further notice.
Because of the expected high volume of calls, registering online is encouraged. If registering by phone, owners of commercial properties and residents with only minor losses are urged to wait a few days before calling so those whose homes were destroyed or heavily damaged can be served first.
Victims with insurance coverage should contact their insurance company or agent before calling to report losses and, if necessary, to request an advance or partial payment of their settlement."

Looters Steal Postal Truck
PHOTO: (Right) Armed Texas game wardens surround a group of individuals who stole a mail truck to escape the flooded areas of New Orleans East August 31, 2005. The people were freed but forced to continue on foot. (Photo 1 | Photo 2) The photos beg the question: "What else has been stolen from postal facilities?"

Government working to get SSI checks to evacuees


Postal Service Stops Accepting Standard Mail in Affected Areas


Postal Service Relocating New Orleans Center to Baton Rouge


Hurricane may delay married TSP participants' loans, withdrawals


Hurricane-related messages in PostalMag.com message board


Postal Service to Divert Entergy Bills
8/30/2005

USPS: In Katrina's wake
Storm disrupts service in Southwest and Southeast areas
"Postal officials in the Southwest and Southeast areas continue to assess the impact of Hurricane Katrina on postal operations in Louisiana, Alabama, Mississippi and Florida. Many roads and most airports in the areas most heavily affected by the storms remain closed. Because of the inaccessibility of some areas, a full determination of Katrina's long-term service impacts has not been completed. But every effort is being made to restore retail and delivery service where possible and where it can be done safely.

The safety of our employees remains the number one priority and efforts remain underway in each district to contact all affected employees. Employee Assistance Program counselors are standing by to assist employees in hurricane-ravaged locations as soon as conditions permit their entry into those areas.

With a number of key processing facilities out of service, all mailers that drop ship into affected areas have been advised of service conditions and the availability of alternate arrangements. Service updates will continue to be posted on usps.com.

As service is restored in some areas, destruction and heavy damage to homes and businesses will prevent regular carrier delivery. Residential and business customers will be notified of alternate delivery arrangements as soon as they have been established.

The Postal Inspection Service will be working with Louisiana District officials today to make an initial determination of the extent of infrastructure damage in New Orleans and surrounding communities."

200 post offices without electricity in Mississippi; 1st-of-the-month checks


Gulf Coast Businesses Struggle in Katrina's Aftermath


Submerged mail trucks at Mobile's downtown post office