Aerial Photos of New Orleans Postal Facilities
Utilizing Google Maps PostalMag.com has been able to obtain high resolution aerial photos of two post offices in New Orleans (below). The Central Carrier Station at 1300 Florida Avenue (first photo below) is surrounded by water. In the parking lots, postal vehicles sit in a sea of water. The area surrounding the Chef Menteur Station at 5919 Chef Menteur Highway (second photo) appears to be not flooded, but there are only five postal vehicles in the parking lot (we hope that's normal).

When available, Google Maps is providing aerial photos taken after Hurricane Katrina that show the extent of flooding in the New Orleans area. (Below, we have provided links to Google satellite images of areas that have New Orleans postal facilities). To use this feature yourself, go to http://maps.google.com and enter the address of the location you wish to view. You can view by Map, Satellite, Hybrid (combination), or Katrina mode (not available where not applicable). Use the bar to zoom in and out and pan left, right, up and down. To move (drag) image, left click and hold mouse button, then move mouse. Information below is deemed reliable but not guaranteed. Information may be incomplete.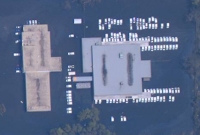 Central Carrier Station

(click to enlarge)
1300 Florida Avenue, New Orleans, LA 70119
Google Satellite Image

(Notice in right-hand, bottom corner of image it appears the water has an oily film on the surface.)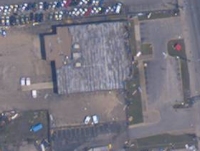 Chef Menteur Station
(click to enlarge)
5919 Chef Menteur Highway, New Orleans, LA 70126
Google Satellite Image
More Google Satellite Images of New Orleans Postal Facilities (Post-Katrina)
Post Office Airmail Center
New Orleans International Airport, New Orleans, LA 70141
Bywater
1521 Poland Avenue, New Orleans, LA 70117
Carrollton (Not Available)
3400 South Carrollton Avenue, New Orleans, LA 70118
Elmwood (Not Available)
5720 Citrus Boulevard, New Orleans, LA 70123
Gentilly Finance Station
2051 Caton Street, New Orleans, LA 70122
International Trade Mart
2 Canal Street Ste 330, New Orleans, LA 70130
Jefferson (Not Available)
5720 Citrus Boulevard, New Orleans, LA 70123
Lafayette Square
610 South Maestri Place, New Orleans, LA 70130
Lake Forest Station (Not Available)
9600 Lake Forest Boulevard, New Orleans, LA 70127
Lakeview Finance Station
6319 Marshall Foch Street, New Orleans, LA 70124
Loyola University (Not Available)
6363 Saint Charles Avenue, New Orleans, LA 7011
Mid City Finance Station
501 North Jefferson Davis Parkway, New Orleans, LA 70119
Post Office - New Orleans
701 Loyola Avenue, New Orleans, LA 70113
Old Algiers Point
500 Pelican Street, New Orleans, LA 70114
Station A Algiers
3901 Macarthur Boulevard, New Orleans, LA 70114
Uno Contract Station
2000 Lakeshore Drive, New Orleans, LA 70148
Uptown Station (area heavily flooded)
2000 Louisiana Avenue, New Orleans, LA 70115
Vieux Carre
1022 Iberville Street, New Orleans, LA 70112