PostalMag.com (also PostalWorkersOnline.com) is perhaps the most popular site on the Internet for postal employees. We regularly log about 1.5 to 2 million hits a month from about 20 to 40 thousand unique visitors. We are ranked at the top, or near the top, of search engines in many postal categories. Our discussion forums have tens of thousands of messages and hundreds of thousands of page views from tens of thousands of postal workers. According to feedback and site stats, PostalMag.com is regularly read by rank-and-file craft postal workers, supervisors and managers, postmasters, top brass at USPS HQ, Postal Rate Commission members, and many others in the postal industry.
Because of our Web position and popularity, we can offer your company, product, or service highly targeted advertising content to postal employees. For more information please contact us.
469-999-2118
militarynetwork@gmail.com
Advertising Options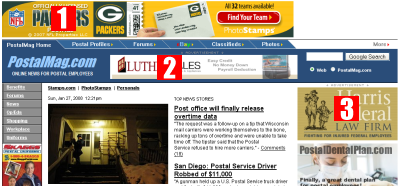 1: 728×90 Banner Ad
Home page: $500 per month
2: 468×60 Banner Ad
Home page: $300 per month
3: 300×250 Top Banner Ad
Home page: $300 per month
4: 300×250 Banner Ads (underneath #3 option)
Home page: $250 per month
5: 125×125 Banner Ads (underneath 300×250 banner ads)
Home page: $100 per month
(Options 4 and 5 not shown in above graphic)
Multi-month and yearly discounts are available. Other advertising opportunities are available, including partnerships and affiliate programs.