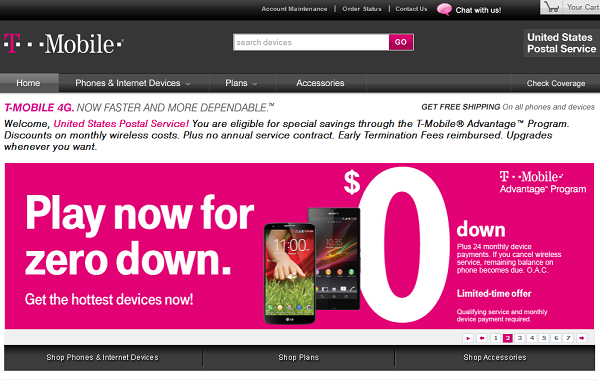 USPS employees are eligible for special savings through the T-Mobile Advantage Program. Special offers for postal employees include discounts on monthly wireless costs, no annual service contract, early termination fees reimbursed and upgrades whenever customers want.
EXAMPLE PLAN:
Apple iPad mini with Retina display – Silver – 16GB
$0.00 Down Payment
Monthly payment: $21.00 for 24 months
If you cancel wireless service, remaining balance on device becomes due.
Qualifying rate plan required. SRP $504.00. 0% APR 0.A.C. for well-qualified buyer.
Plans may change. Please see T-Mobile website for latest offers (click link below):
http://www.t-mobileadvantagedirect.com/L.aspx?d=VCVYsUAk0mrCJ_QLHpou4Q==